Looking for cool coffee mugs for guys as a neat little gift? Here are the top 10 really cool mugs we've picked!
Does a coffee mug make a good gift or does it seem too lazy? If you spend some time looking for the right mug it can be a great gift. All you have to do is pick one that matches the person's likes and it's cool or funny in some way.
That's exactly how we can describe all of these top 10 coffee mugs. And now your choice is down to ten really cool options. While all of these were selected with guys in mind, there's no reason why any of them wouldn't fit the right girl too. Check these out!
"Don't Speak" Funny Coffee Mug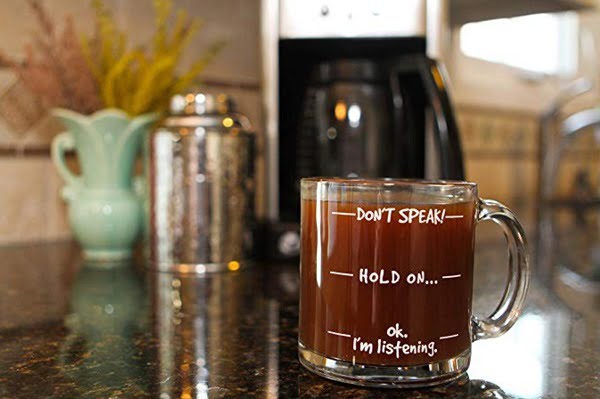 How about a coffee mug that displays your current mood based on how much coffee you've had? It's a clever idea if you think about it. We all need a full mug of coffee in the morning to even think of communicating with someone else. So next time you're having your morning coffee, make sure everyone sees what it shows!
This coffee mug can make a great gift to anyone as well as a neat little something for yourself. It would make an awesome white elephant gift in the office too!
Why it's our pick? Because this coffee mug is as funny as it is cool. It's an awesome gift for everyone.
Viking Skull Coffee Mug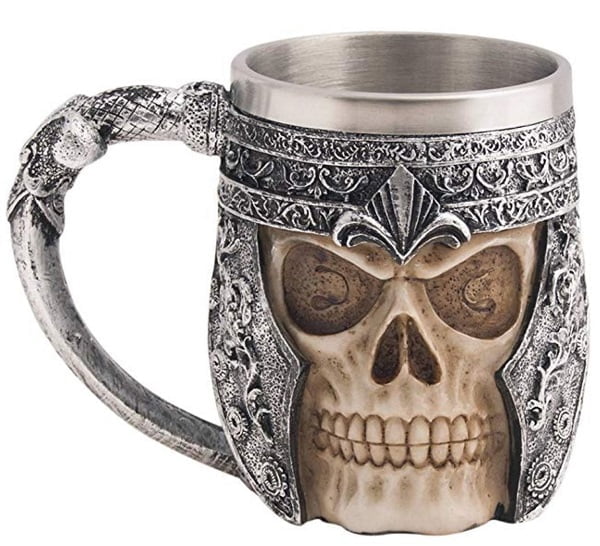 Nothing says cool like a real Viking skull mug. Alright, it's not an actual Viking skull but still, it's a really cool design. The mug is made of stainless steel which makes it even more manly and powerful-looking.
It's a great gift for a guy who likes cool little things (and who doesn't?) Or perhaps, you want one for yourself? We don't blame you for that!
Why it's another great pick? Because this coffee mug looks and feels really cool. Any guy will appreciate this as a gift.
Camera Lens Travel Thermos Coffee Mug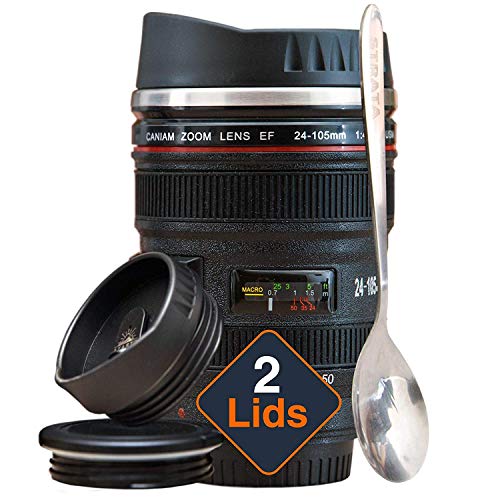 A coffee mug and a thermos that looks like a real camera lens – how cool is that? And not only it looks cool, but it also functions great as well. This is a genuine travel mug that will keep the contents warm for an extended period of time.
This is a great gift for your traveler friend, be it a guy or a girl. Come to think of it, you would probably want one too. Just don't mix it up with a real lens!
Why it's our choice? Because this coffee mug looks awesome and it's actually really useful.
Anger Management Funny Coffee Mug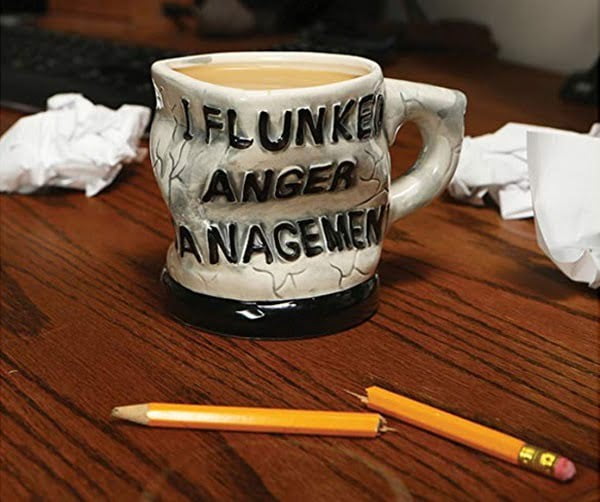 Well, this is one funny coffee mug that is ought to always get laughs if not weird looks. Talk about coffee being a stress relief in more than one way! If you know someone who needs this in your office – tag them!
It's a great gag gift too. So if you're looking for something inexpensive and funny while still being useful, check out this mug.
Why it's our pick? Because a guy needs to show his strength, especially when they are angry. And this coffee mug is as much cool as it is funny.
Star Wars Storm Trooper Coffee Mug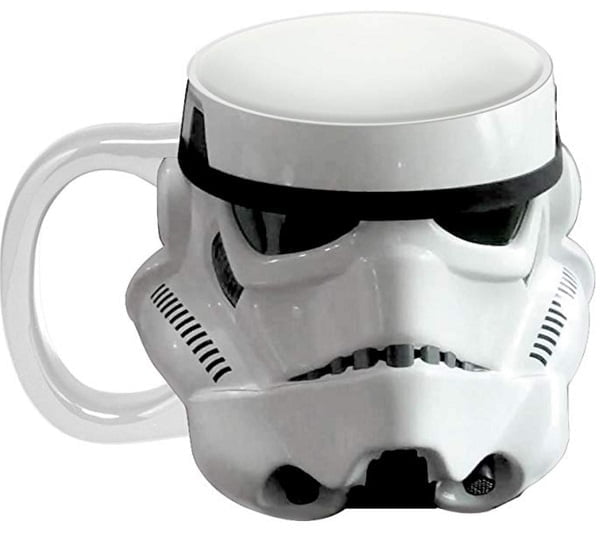 Know someone who is a big Star Wars fan (or you are one)? Then this Storm Trooper is a must have. If only to drink from the helmet of a trooper. It's a really cool looking mug that will undoubtedly draw cheers of all nerds. And that's a good thing!
Why it's on this list? Because the Storm Trooper helmet looks cool even if you're not a fan.
Skeleton Coffee Mug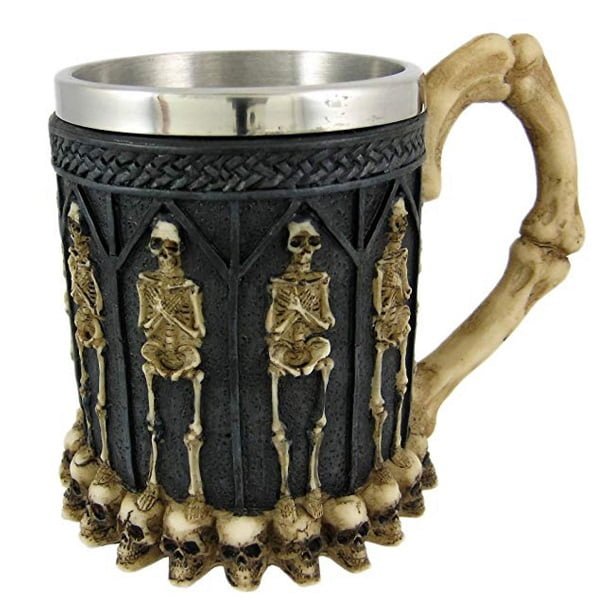 This coffee mug might be perfect for Halloween but we can see it being cool any time of the year. After all, skulls are awesome. Right, guys? Besides, this mug is really well made of stainless steel and cast resin. Try stealing that in the office kitchen!
Why it's among our choices? If you know someone who likes skulls, this will make a cool little gift.
Bolt Coffee Mug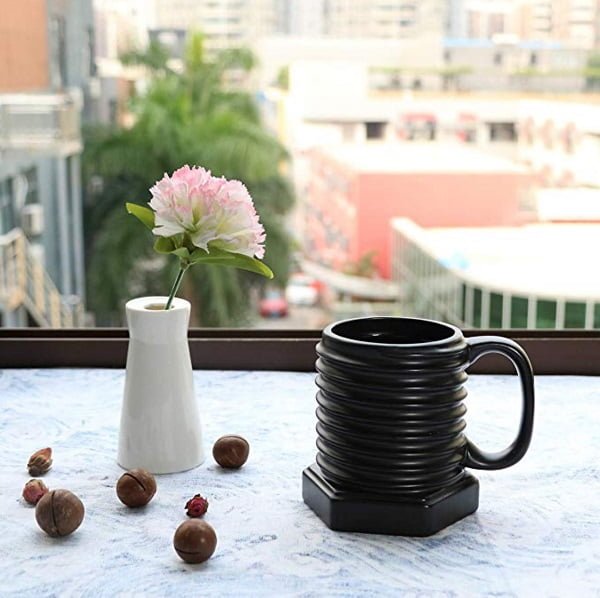 For a guy who knows his tools, this coffee mug is just the right fit. The look of a bolt is not only cool, but it's also pretty practical and convenient too. This ceramic mug will make coffee drinking a tad more fun and it can work as a decor accessory too. In this regard, this modern piece will make a good gift even for a girl.
Why it's our pick? Because the bolt coffee mug is a real piece of modern art!
Tire Stack Coffee Mug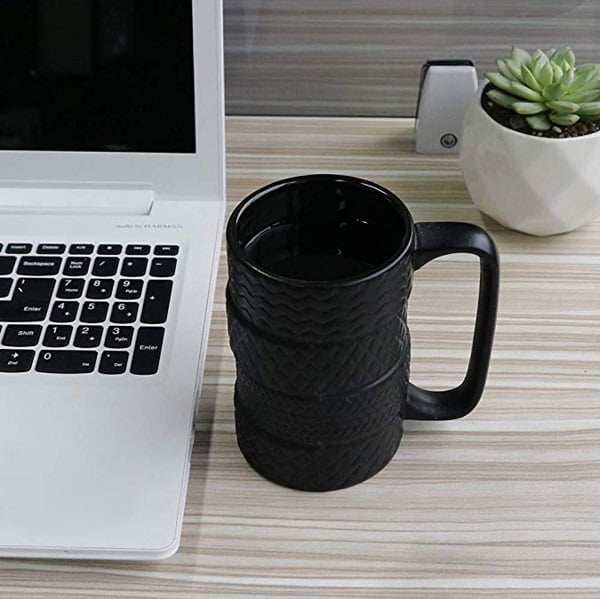 And what can be more manly than something car related? A ceramic tire stack shaped coffee mug is sure to be a big hit with any man. So if you want a really cool coffee mug for guys, this is it. Other than the looks, the mug features a comfortable grip.
Why it's one of our choices? Because this modern style coffee mug will make a great addition to any man's mug collection.
Prescription Coffee Mug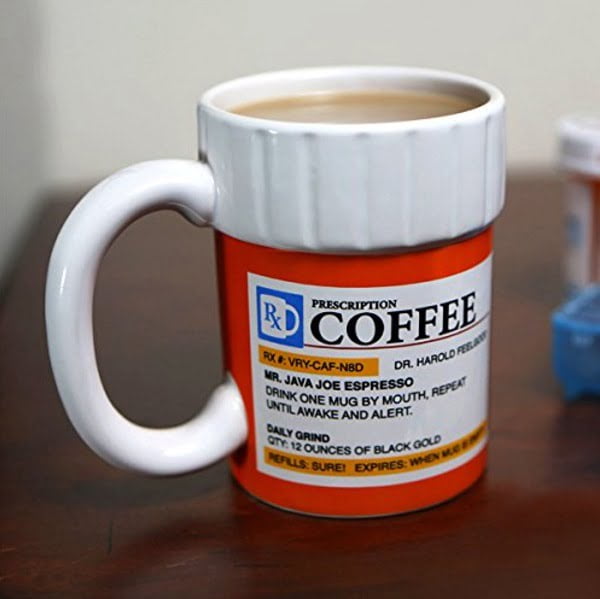 Do you know someone who needs a prescription of coffee every morning (see the first mug on this list)? Then you need to give them this mug as a gift. This funny but cool coffee mug will cheer anyone up. Note: no real prescription is needed.
Why did we pick this coffee mug? Any coffee junkie will appreciate the funny and ironic design of the mug.
Game Over Coffee Mug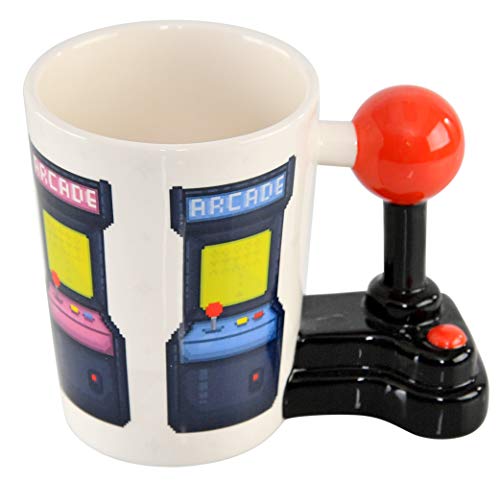 It's a game over when you pour coffee on your controller. But when you pour your coffee in this mug, it's a power up! This design is sure to be a big hit with your gamer friends. If you know a guy (or a girl for that matter) who is an avid gamer, get them this mug.
Why it's our pick? We love the attractive and clever design of this coffee mug.
Liked this? Here's more: