Do you have a die-hard Back to the Future fan in your life and want to get them a gift? These are totally awesome gifts, and you don't even need to time-travel for them!
Back to the Future is a classic movie trilogy that has spawned a multi-million dollar franchise that shows no signs of flagging. Seriously, it's been decades since Marty McFly, and Doc Brown first traveled through time, and the characters are still popular enough to headline an entire theme park. (Seriously, Universal Studios is building one in Florida.) So, if you're looking for a gift for someone who loves the movie trilogy, here are some ideas for you.
Back in Time: The Unauthorized Back to the Future Chronology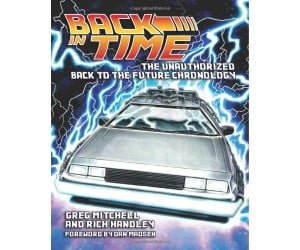 The Back in Time book is a great chronology of the beloved sci-fi franchise of Back to the Future, detailing the entire history of the multimedia universe.
Fans of the movies will be surprised by how deep the book actually goes. It details not only the various timelines of the movies, but also the timelines presented in books, cartoons, and even fast food toys. This is an incredible book for those who are fans of Back to the Future, even if they have viewed none of the other media sources outside of the original trilogy of films.
Back To The Future Time Machine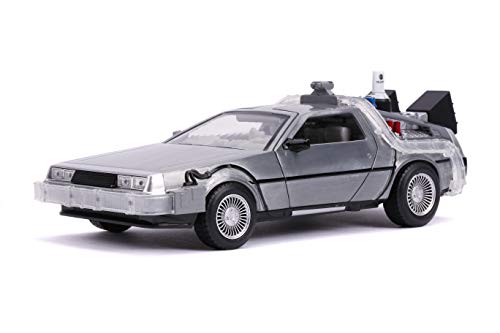 A cool BTTF Delorean car model scale 1:24. It's an officially licensed product.
Mens Back To The Future Neon And Black Crew Socks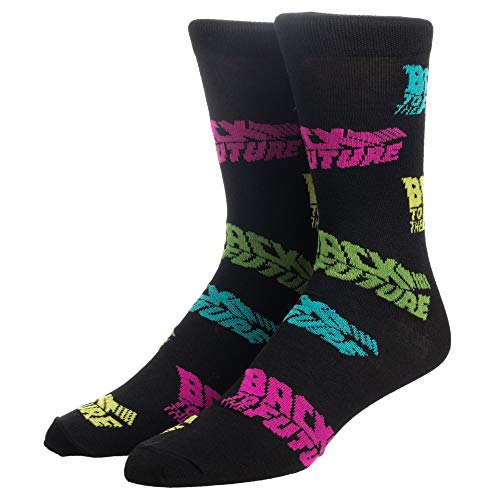 This crew-length sock features black ribbing and yellow lettering along the calf. It has a 6-inch inseam for a comfortable fit with shoes on.
Back To The Future Sticker Pack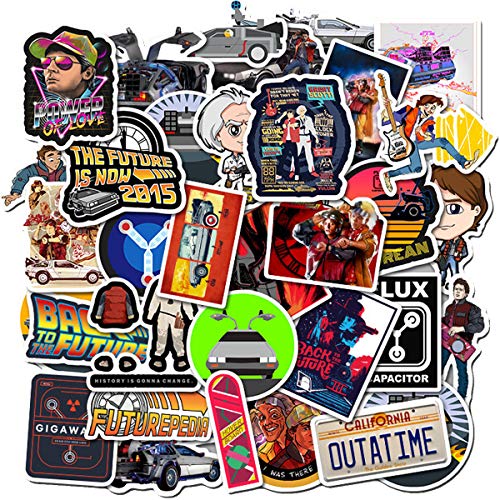 Size 2-3 inch.Perfect to embellish laptops, keyboards, backpacks, skateboards, luggage, water bottles, scrapbooks mirrors notebooks journals walls cars bumpers bikes bedroom comfort zone. Enjoy a new web of endless personalized art.
Back In Time Board Game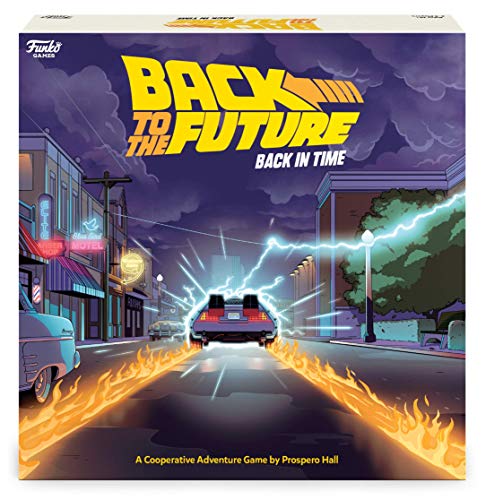 This week, BTTF again celebrates the importance of being properly wound with the re-release of one of my favorite movies and now Board Game! The 'Back to Future' game is a representation of movie plot points.
Back To The Future T-Shirt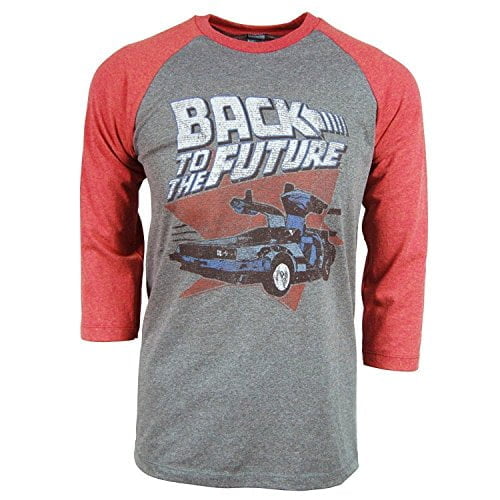 Cool T-shirt with BTTF logo and Delorean.
Playmobil Back To The Future Delorean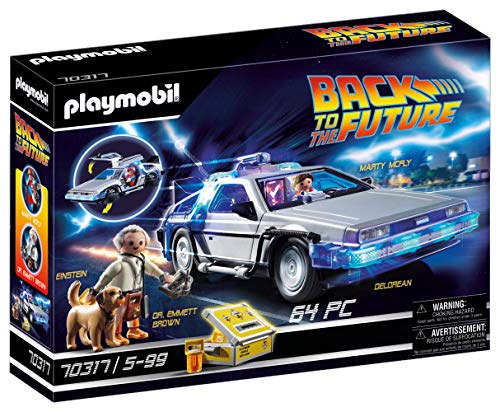 The iconic Back to the Future DeLorean is ready to soothe your crush's heartache with its time-traveling action, that oh-so recognizable glow, and an embossed Doc Brown autograph.
OUTATIME License Plate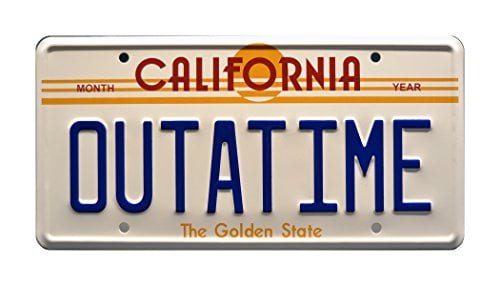 The classic look of two time periods in Hill Valley, California can now adorn your vehicle thanks to this awesome license plate! Includes the "1886" and "AUG 57" designs which are accurate details.
Doc Figurine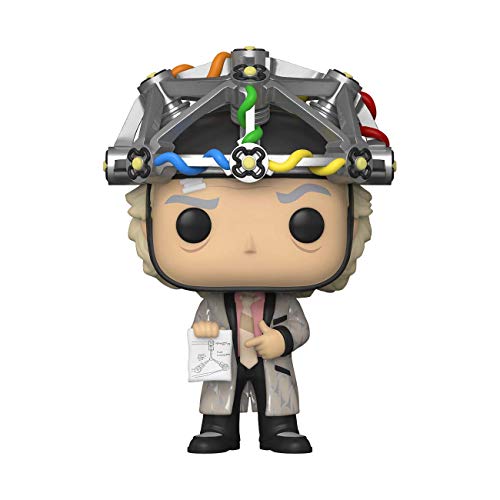 In the movie Back to the Future, Doc Brown always wears a helmet with glasses. Now you can bring some Florida sunshine and high adventure into your life with this Pop!
License Plate Frame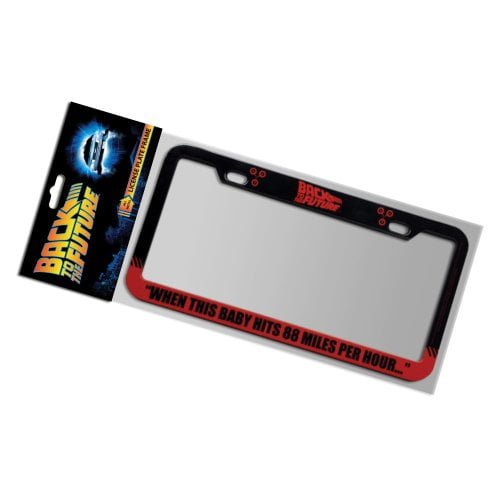 Officially-licensed Back to the Future gift Little details in this poster make it a great Great Scott present. The details of the time machine are perfect and will look great in any fan's collection.
Marty Figurine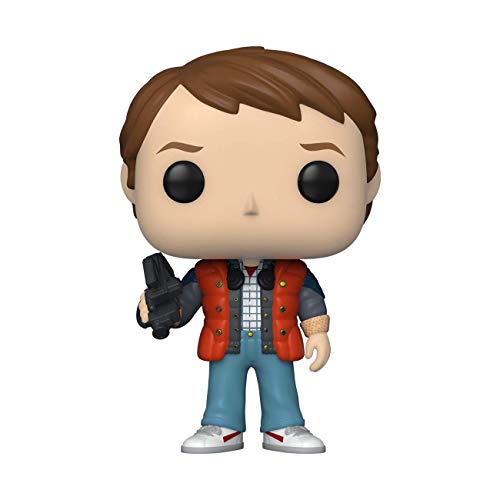 Here is a product from Back to the Future: Marty in Puffy Vest as a stylized Funko Pop vinyl figure. You may remember seeing this outfit in Back to the Future. This Funko figure will make part of an awesome collection.
Back To The Future Keychain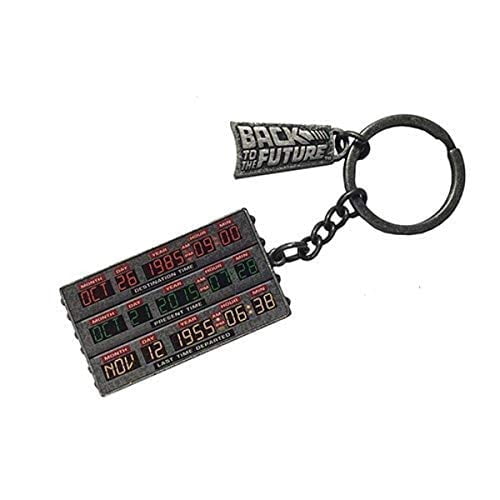 Officially licensed Back to the Future collectible product. Produced and designed with attention to detail. Lightweights and compact. A great gift!
Hoverboard Model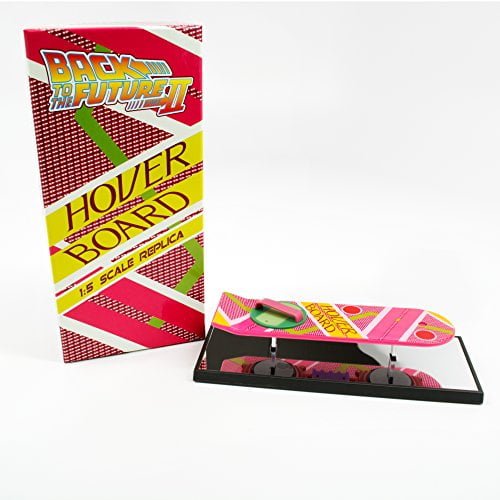 The BTTF hoverboard is 1/5 scale, perfect for displaying on your desktop.
Delorean Tie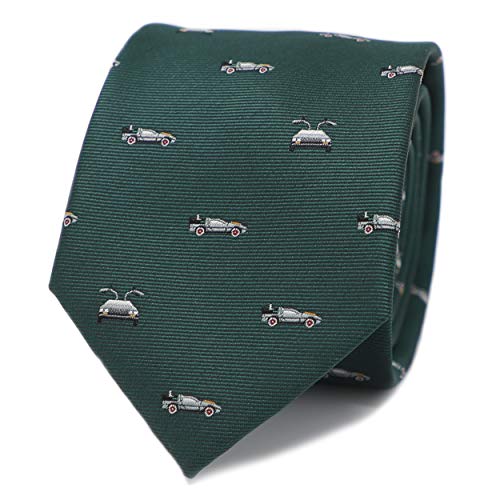 This tie features a time machine pattern reminiscent of the one in Back to the Future. It is made with 100% microfiber fabric, which makes it perfect for soft and smooth textures. The tie is hand sewn and lined with wool.
Back To The Future Logo T-shirt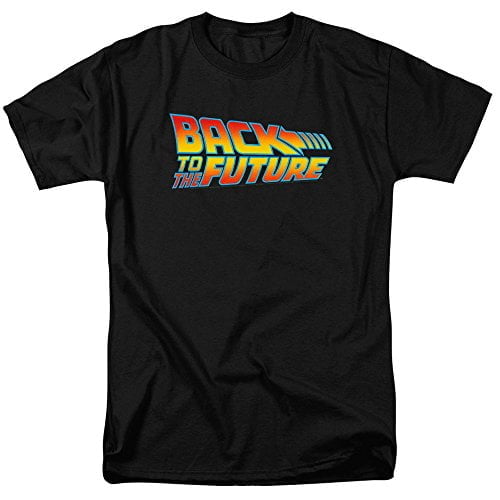 This unisex t-shirt looks sleek and stylish on both men and women meaning it's a simple everyday t-shirt. All designs are printed by a high-tech printing facility in Detroit, Michigan. This ensures the highest quality.
Back To The Future Delorean 3D Wood Puzzle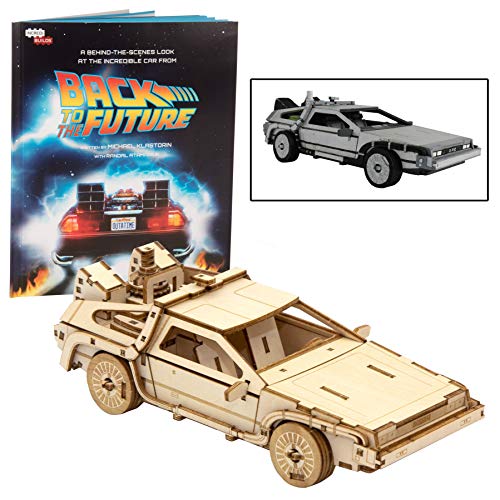 The IncrediBuilds Back to the Future – DeLorean Book and 3D Wood Model Figure Kit is a great Back to the Future gift! It features a painting-friendly piece that's made from wood.
Back To The Future Cap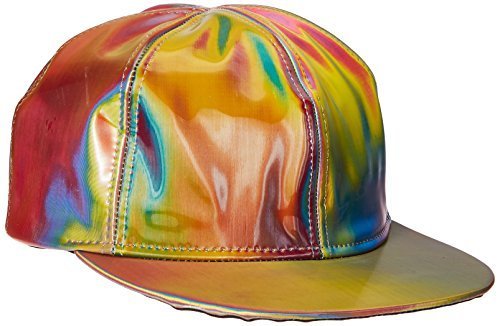 One-size-fits-all costume replica from the movie "Back to the Future." Silk twill exterior shines so that you can read what you are holding underneath.
Framed Cast Of Back To The Future Autograph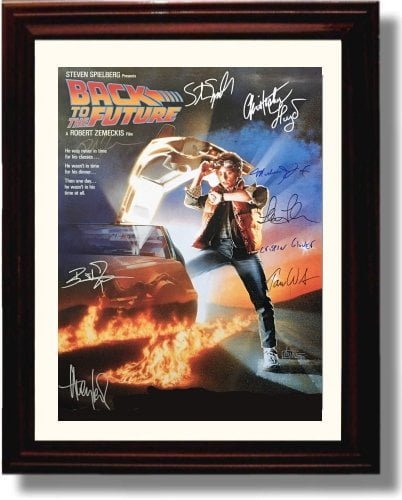 This framed photo is an exact replica of the original one. The framed photo shows all of the detail from the original item. The cherry wood frame has a 10"x13" size.
Back To The Future 90s Movie VHS Lanyard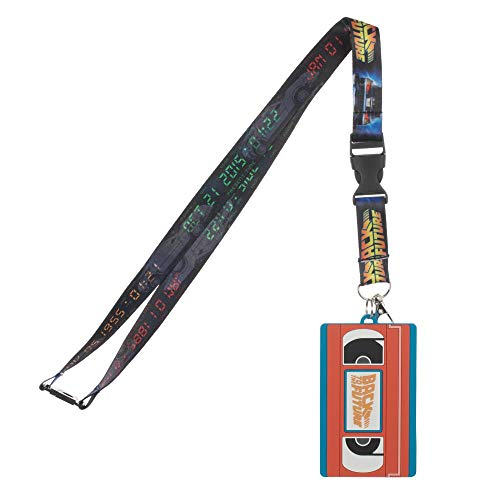 The Back to the Future 90s Movie Lanyard measures 22 inches. The lanyard attaches to a stiff ID holder designed like a VHS tape. They are all officially licensed and 100% authentic.
Sports Almanac 1950-2000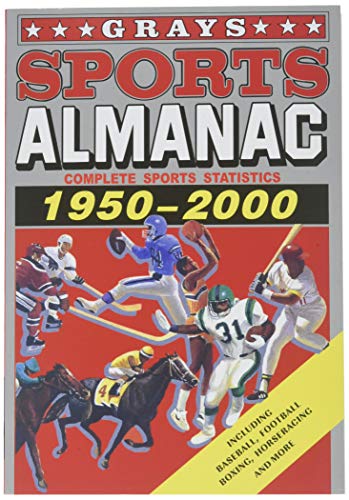 This authentic-looking prop book is a great accessory for any Back to the Future fan. With 50 pages including baseball, football and boxing information from your favorite time period you'll be able to know what's going on in the world!
Marty Mcfly Written Warning Letters to Doc Brown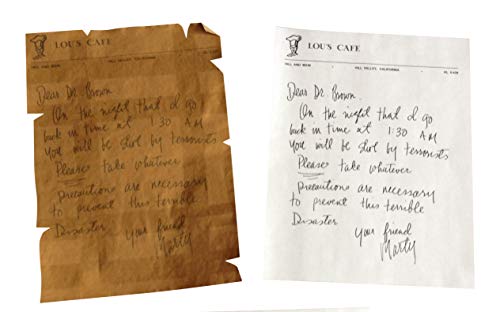 This pack of two feature some recognizable pieces from the movie including a similar version of the torn and taped up, vintage-looking letter the Doc Brown shows Marty Mcfly in the Lone Pine parking lot. Comes securely packaged in cello packaging.
Back To The Future Tin Sign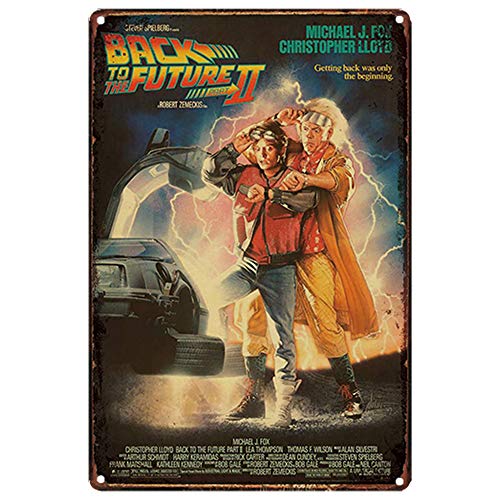 Vintage tin sign in high resolution graphics.
Delorean Canvas Prints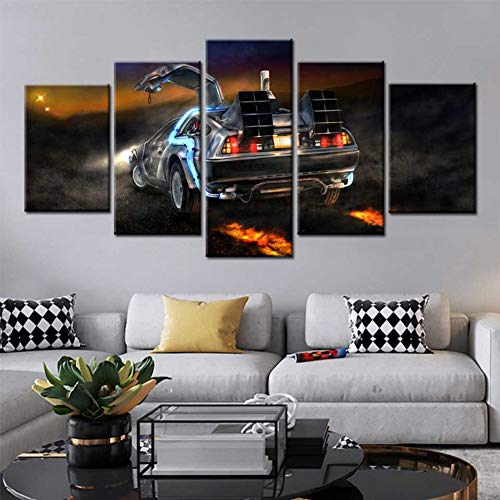 This is a common gift for those big Back to the Future fans, especially since the theme was released.
Liked this? Here's more: