Here's one for Game of Thrones fans – and I know there are many among us – a cover for your iPad or Kindle or other tablet devices. Now you can choose the house to protect your device – what will it be?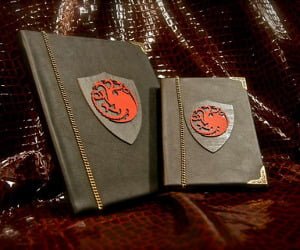 This particular case is of the house Targaryen and I've chosen it because I like it. I mean they have dragons, nobody can beat that, c'mon! But you can choose the coat of arms of any of the houses from Game of Thrones (check out the stuff from this seller on Etsy).
The custom-made covers are made of faux leather with micro suede interior and come in various sizes for several tablet devices you can choose.
It's a unique piece of art for any Game oF Thrones fan, and just imagine what kind of an awesome gift it would make to someone who is a fan too.
Liked this? Here's more: