Ready to profess your faith in the Flying Spaghetti Monster? With this vinyl car decal sticker, you now can. Just stick it on your car and spread the word of the Flying Spaghetti Monster among the non-believers.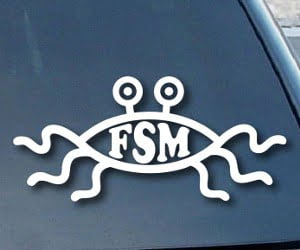 The decal sticker is made of high-quality vinyl and it's available in several colors you can choose from. It can be put on your car window and it comes with detailed instructions on how to do it – which is very easy to do.
Use this decal to impress and express your geeky religious views or just for fun.
All hail the almighty Flying Spaghetti Monster!
Liked this? Here's more: