Have a thing for steampunk (or know someone who does)? How about a cool steampunk keyboard to jazz up your computer rig? These are the best.
The Steampunk keyboard is one of those ideas that you never would have thought of, but once you see it, you realize it makes perfect sense. Most of us are used to using those mushy keyboards full of letters that we take for granted.
Those days are over with these Steampunk keyboards. The keyboard uses the same mechanical style as in the old days, with individual letters that light up but still push down when you press on them. The Steampunk details make it an awesome detail for your rig.
The Diviner Wooden Steampunk Keyboard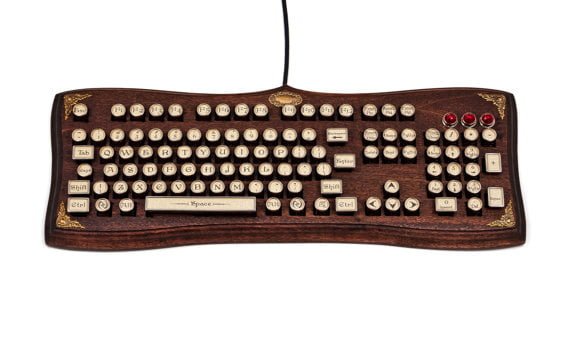 This fully functional handcrafted unique wooden keyboard is a real piece of art for steampunk fans and just about everyone who likes beautiful vintage things. It has an attractive mahogany finish, vintage typewriter keys, and red ruby jewel indicators that complement the antique style.
And although it's on the expensive side, it's a luxurious gadget that should be expensive to be appreciated. Get one and use your computer like king.
RK Royal Kludge Typewriter Style Mechanical Keyboard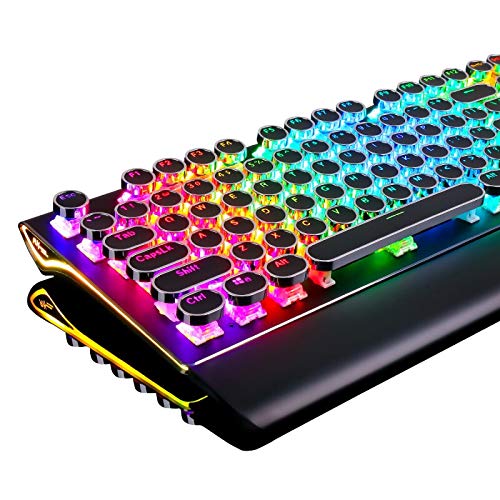 Retro Typewriter Style with Mechanical Keys. This keyboard features a mechanical blue switch for ultimate gaming performance. The mechanic keys offer medium resistance, an audible click sound, and tactile feedback.
Retro Steampunk Typewriter-style Gaming Keyboard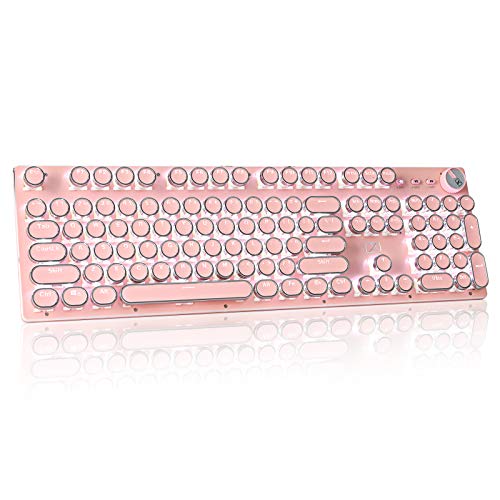 We offer a professional standard keyboard for those who are looking for a steampunk keyboard. The LED's default to white, but there is also many other unique fun color options that can be chosen.
Azio Retro Classic Bluetooth Steampunk Keyboard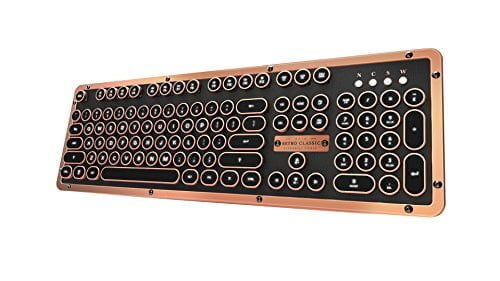 The Azio Retro Classic keyboard is a mixture of the retro-style with modern features. This product has an attraction that many people will want to buy.
Basaltech Steampunk Mechanical Gaming Keyboard and Mouse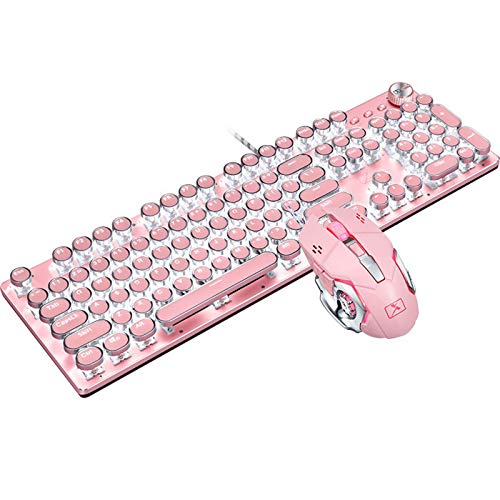 This keyboard has retro typewriter-style keycaps with mechanical keys for ultimate gaming performance with tactile feedback.
Mechanical Keyboard LED Backlit Retro Typewriter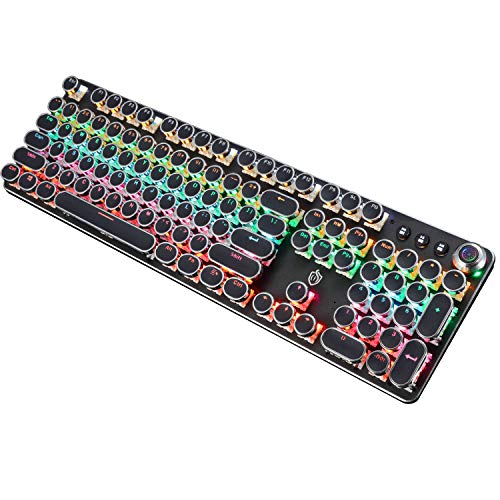 A 50 million keystroke on the STABLE & DURABLE keyboards with ABS Keys. It is made of the ABS Base, which builds a Mechanical Feel Keyboard.
LED Backlit Retro Typewriter Mechanical Keyboard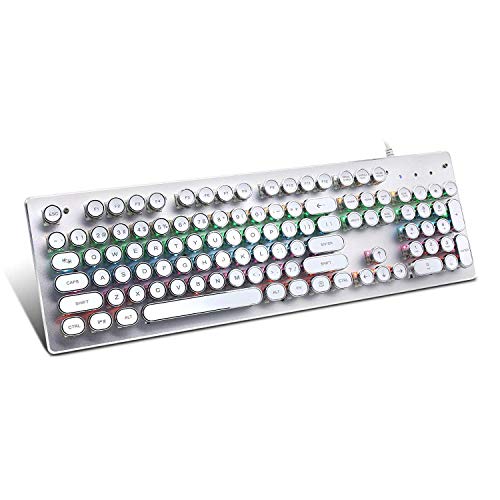 STEAMPUNK KEYBOARD – The mechanical keyboard is durable and offers excellent performance.
E-Yooso K600 Retro Mechanical Gaming Keyboard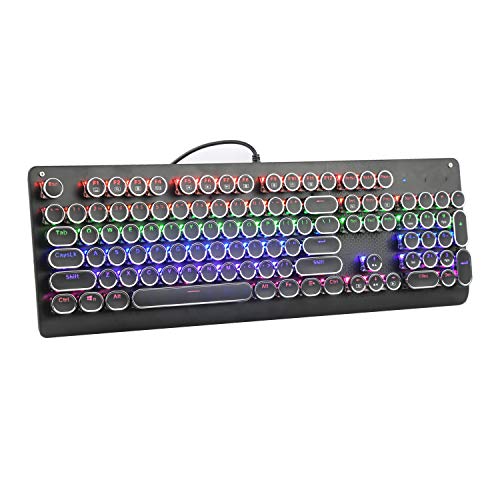 This "Outemu Blue Switches" mechanical keyboard has excellent tactile feedback, durable key caps, and medium resistance for fast responses.
Basaltech Typewriter Style Mechanical Gaming Lipstick Color Keyboard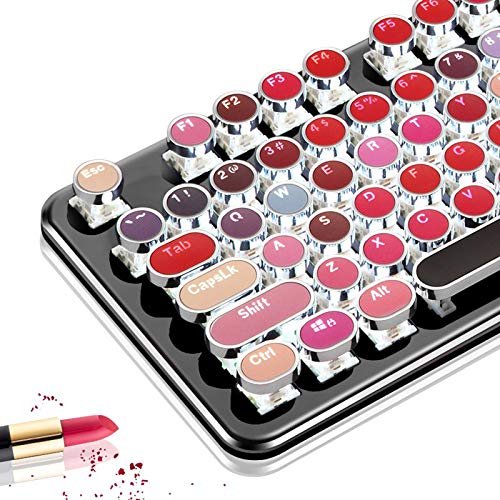 This is a mechanical keyboard for people who enjoy typing and gaming. It has keys in lipstick colors. Perfect for the steampunk girl.
Mechanical Feel Black Retro Typewriter Keyboard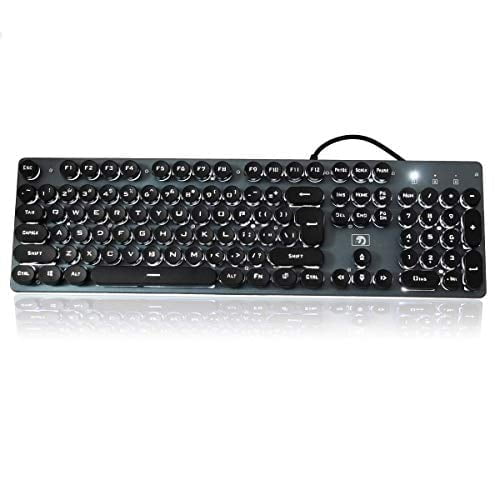 The durability of this keyboard is incomparably higher than any other keyboards on the market. With its 50 million keystroke test, you will not need to worry about the durability of your keyboard in both normal gaming and when transferring data.
E-yooso RGB Retro Steampunk Mechanical Keyboard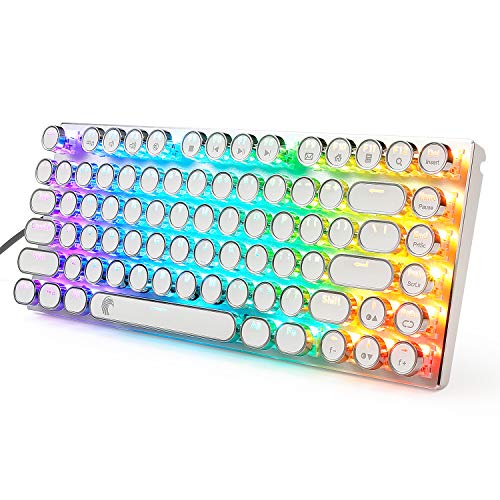 Mechanical Keyboard for the steampunk enthusiast. Rough surface giving tactile feedback when typing, allowing your fingers to get a good grip- Loud sound when playing games or typing, gives you that nostalgic typewriter feels.
Rymek Chic Typewriter Mechanical Wireless Keyboard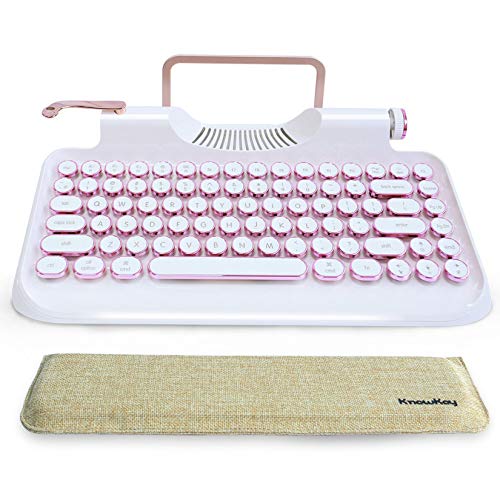 Probably manufacturers have invented the steampunk keyboard by adding unique features from the past to more contemporary features for one keyboard. These together beautifully complement each other in a way that creates ergonomic ease.
Tishled Pink Typewriter Keyboard With White LED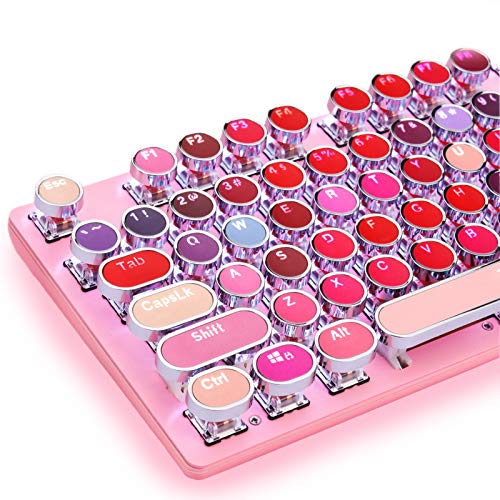 Modern design, the keys are big and simple to press, with 26 LED light modes. Pink for the steampunk girl.
Azio Retro Compact Keyboard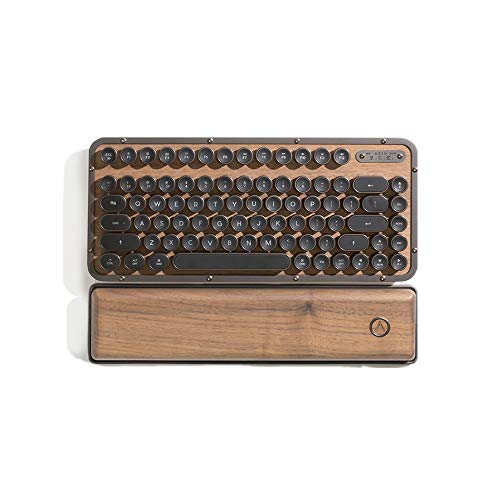 Wood finish and stamped brass detail work are just the drum roll of this product.
Adesso Retro Desktop Mechanical Typewriter-style Keyboard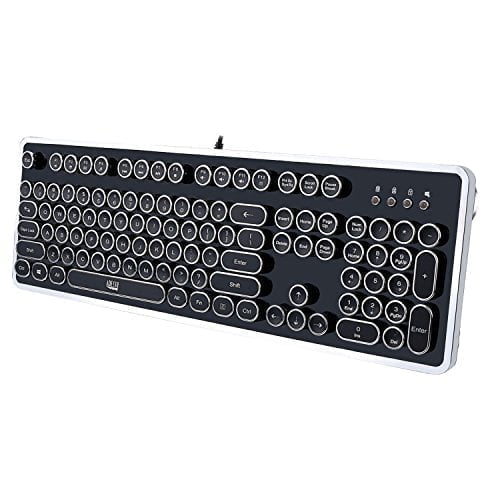 The Mechanical Typewriter-style Keyboard is perfect for nerds that want a keyboard with fantastic efficiency. This typewriter-style keyboard features mechanical key-switches that deliver a tactile and audible click as they type.
Ubotie Colorful Computer Wireless Keyboard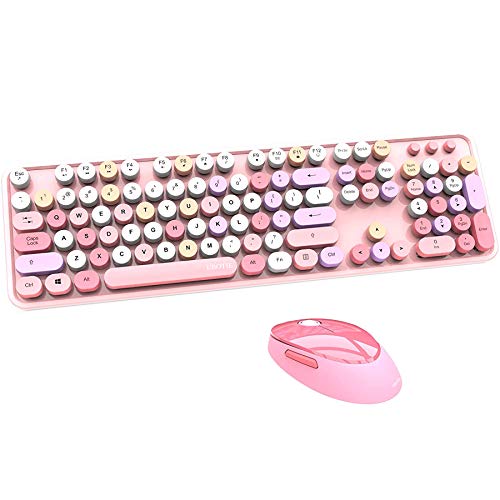 The retro typist keyboard by Fastfire is a great addition to your discerning personal collection- and the design will never fade. Clad with glittering multicolour settings to help you stand out in the office.
Mk11 RGB Mechanical Retro Keyboard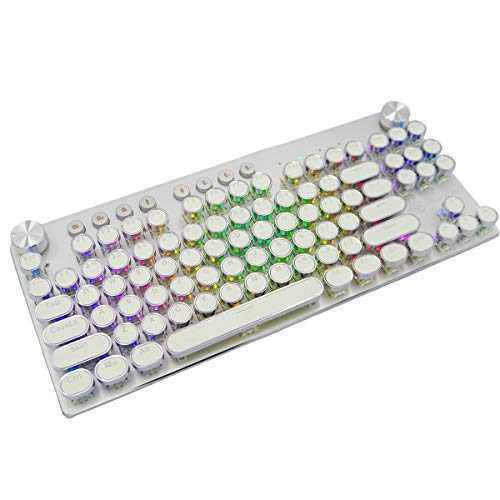 MK11 Bluetooth Keyboard Awesome wireless black electric keyboard that is wired with Micro USB charging cable.
Qwerkywriter S Typewriter Inspired Retro Keyword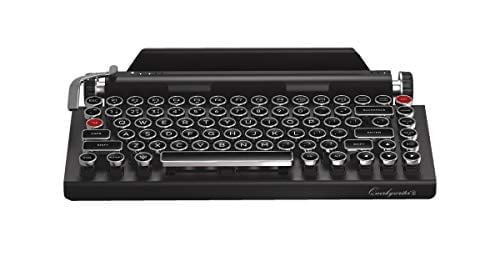 The QwerkyWriter S is a typewriter-inspired mechanical keyboard, featuring a macro programmable Return Bar. The integrated tablet stand means you can work with your tablet anywhere from 10 to 12 inches.
Liked this? Here's more: