Forget the big, clumsy and expensive movie projectors and be amazed at the power in this fantastic mini movie projector that fits in the palm of your hand! It's compatible with almost any device.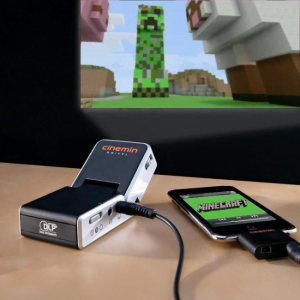 Who said that movie projectors have to be big, clumsy and expensive? This awesome mini-movie projector lets you project your movies in high contrast 480 x 320 (HVGA) resolution from a device that isn't much larger than your cell phone. This mini-movie projector's size makes it fit in the palm of your hand and you can easily carry it with you if you, for example, are going to visit your grandma who doesn't have a TV.
And if you are lying in your bed and want to project 60-inches of glory on your ceiling, no problem, the mini projector has a unique 90-degree hinge so you easily can project onto any surface in any angle.
The projector is compatible with almost any device (iPhone, iPod, iPad, Android phones, other smartphones, digital cameras, portable DVD players, PSP and much more) and gives you up to two hours of projecting before you have to recharge the batteries.
Use it at parties to project your latest stunts for your friends, in your room when you want to watch a movie or simply use it to make your geeky friends jealous!
Liked this? Here's more: