Replace your old boring pens with these cool-looking syringe needle pens and give your pen holder a real makeover! These pens are perfect for the medical student, nurse or the Doctor.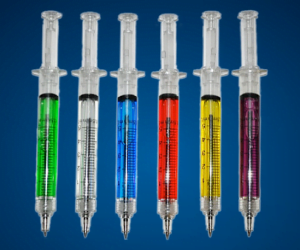 If you find your regular pens boring, which they are, you can now pimp your pen holder/cup with these awesome looking syringe needle pens that are fun, creative and practical all at the same time!
These syringe needle pens are so real-looking that your co-workers, teacher or whoever it is, will start to question if you actually are writing with real syringes.
The "content" inside the syringes have different colors, but they all write in blue or black ink.
This is the perfect gift for the medical student, nurse or Doctor.
Liked this? Here's more: