What do you think Mario use to do after a hard day's work to rescue Princess Toadstool from Bowser? He eats his favorite meal – Italian pasta with meatballs and relax with an energizing Super Mario energy drink of course!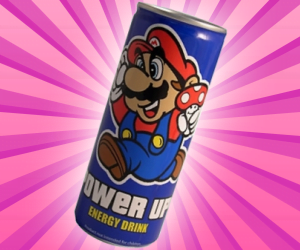 Being a plumber that tries to save a princess from an evil demon king can be difficult and exhausting. And especially if you have to jump around all day long on several levels while you have to look out for Koopas. This is, in fact, Mario's everyday life.
And if you have an equally stressful job as Mario, you can do exactly as you favorite Italian plumber after a hard day's work – Sit down in your favorite armchair and relax with a refreshing and energizing Super Mario Bros Power Up Energy Drink! It will give you all the energy you need to keep jumping and continue your mission!
Liked this? Here's more: