Dress up like Barney from 'How I Met Your Mother' before you're going to bed with this awesome silk suit pajamas! Sleeping has never been funnier or sexier!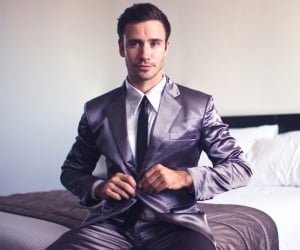 The holiday season is here which means people are going to spend a great deal of time trying to find the perfect gift for each item on their list. Chances are you have someone in your life who looks up to Barney Stinson, the star of the hit television show How I Met Your Mother. What are you going to buy him that will have him feeling like he is the most important person in your life? (You know that is what he expects from you!) Why not purchase a pair of suit pajamas like Barney is so fond of? Barney is known for his exceptional taste and the gentleman in your life wants nothing less than the best either. Suitjamas are the perfect gift in this situation.
When you purchase these pajamas for the man in your life, he will be ready for any situation that arises. Choose carefully though as you want to ensure you get a pair that will not only boost his awesomeness but also comes complete with an emergency contraceptive pocket located in the jacket so he is prepared at all times. The set should come complete with a jacket, shirt, trousers, and cravat. You might want to forewarn the recipient that he needs to be prepared to exude extreme sexiness when wearing this outfit.
When wearing this outfit, the gentleman is prepared for anything, even if it is in the middle of the night. Choosing the right setting though is of great importance. Don't settle for cheap imitations. To ensure he inspires awe everywhere he goes, the suit pajamas must be made of a silk/cotton blend so the pajamas not only feel amazing, but they are light and will breathe also. He wants to look and feel like a million bucks and this type will ensure he does.
When giving these pajamas, you must present them properly. As he goes to open the package, you need to be watching and make use of Barney's trademark phrase. Allow him to open the package and, as he goes to unwrap the inner paper, make sure you say, "Wait for it". He'll have a smile on his face as he does so and this smile will only get bigger when he sees the legendary clothes. What should you do though if you have more than one man in your life who would benefit from a pair of these pajamas?
Don't allow the recipients to open their gifts at the same time. These pajamas need to be presented separately to get the full effect. He wants to know that he is one of a kind, awesome and sexy when wearing these. If you give every man on your list a pair, they won't get the full experience. Barney wouldn't wear the same pajamas as someone else and the gentlemen in your life won't want to either. These pajamas will have him feeling like a million bucks or like he just won the lottery, but only if the entire experience revolves around him. If you make sure that happens, you will be the superior gift-giver in his eyes for some time to come.
Liked this? Here's more: