Wear the same characteristic t-shirt as Al Bundy and the rest of the members of the organization 'NO MA'AM' and show the rest of the world your political views!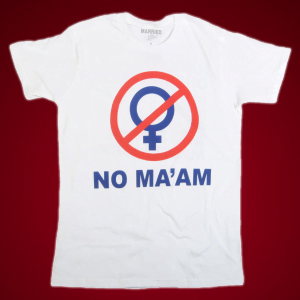 If you grew up during the 80's and the 90's, you have probably seen the classic TV show "Married… with Children" where Ed O'Neill is starring as the underpaid & failed shoe salesman Al Bundy who loves young girls with big boobs but hates fat, married women that's over 30 years.
In the series, he's married to the sofa slob Peggy Bundy who only spends Al's salary on herself and watch Oprah all day long while Al is working his a#$ off at the mall's shoe store. Together they have the children Kelly & Bud Bundy and Al himself would do anything to escape from his family. But most of all, he hates his wife like he hates all other married women in America. Therefore, in season 8, Al and his like-minded married friends found the "NO MA'AM" organization which stands for:
National
Organization of
Men
Against
Amazonian
Masterhood
This organization's political goals are to fight against the women's increasing power and rights in America, but the organization tends to be a beer drinking and porn loving club for the neighborhood's men. And their political outfit is this characteristic t-shirt.
And if you share the same political views as Al Bundy and the rest of the world's married men, you can now own your very own NO MA'AM t-shirt so you can show the rest of the world your political views!
Liked this? Here's more: