Looking for the perfect gift for a basketball fan in your life? Check out these 20 amazing ideas that will score big points with any NBA enthusiast.
Are you searching for the perfect gift for your NBA-loving friend or family member? Look no further! From jerseys to collectibles, there are plenty of options out there. But with so many choices, it can be overwhelming to decide what to get.
That's why we've compiled a list of 20 great gift ideas that any NBA fan would love. Whether they're a die-hard fan or just enjoy watching the occasional game, these gifts are sure to score big points with them.
So sit back, relax and let us help you find the perfect present for your basketball-loving loved one!
NBA Team Jersey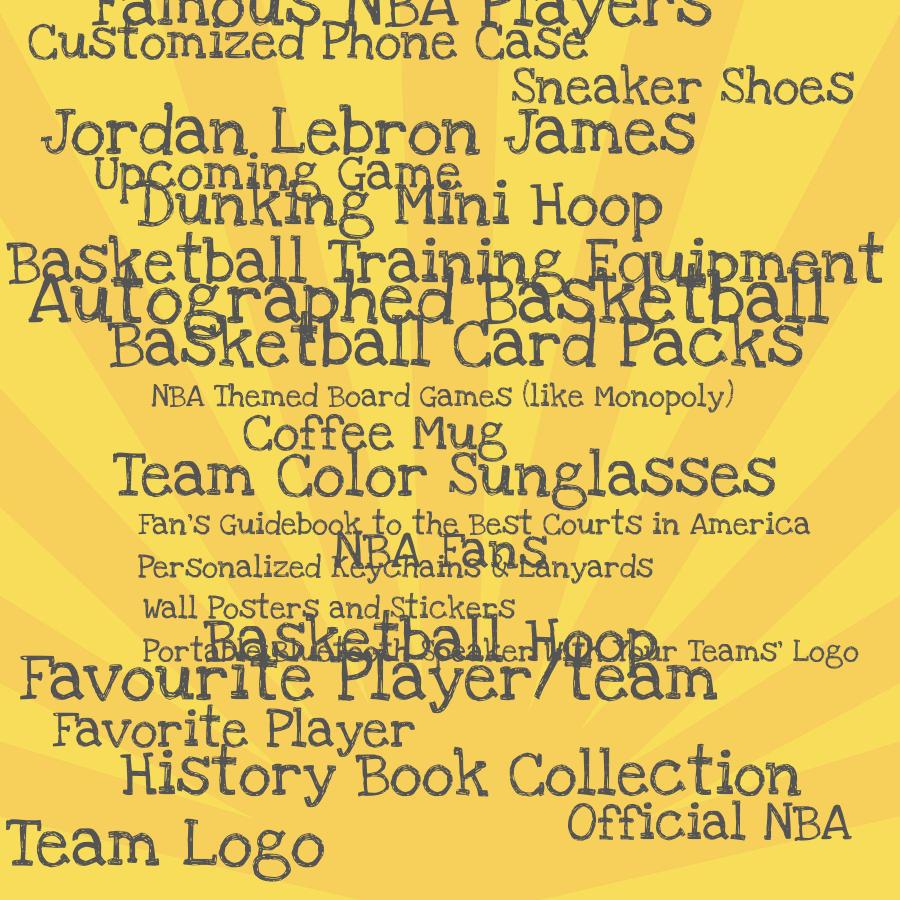 One of the most popular gifts for NBA fans is a team jersey. Whether it's their favorite player or just representing their beloved team, jerseys are always a hit.
The best part about gifting an NBA jersey is that there are so many options to choose from! You can go classic with the home or away colors, opt for a special edition city edition jersey, or even get creative with throwback designs. Just make sure you know which player and size your gift recipient prefers before making your purchase!
NBA Video Game
One of the best ways for NBA fans to experience the thrill of basketball is through video games. The NBA 2K series has been a fan favorite for years, offering realistic gameplay and graphics that make you feel like you're on the court with your favorite players.
With each new release, there are always improvements and updates to keep things fresh and exciting. Whether playing solo or competing against friends online, an NBA video game is sure to provide hours of entertainment for any basketball enthusiast.
Plus, it's a great way to learn more about different teams and players from around the league while having fun at home!
Basketball Hoop for Home Use
For NBA fans who love to play basketball, a basketball hoop for home use is an excellent gift idea. With this gift, they can practice their shooting skills and enjoy the game with friends and family in the comfort of their own backyard or driveway.
There are various types of hoops available on the market, including adjustable ones that can grow with your child or portable ones that you can take anywhere you go. Some even come equipped with electronic scoring systems to keep track of points scored during games.
A basketball hoop is not only a fun way to stay active but also helps improve hand-eye coordination and overall fitness levels while providing hours of entertainment for all ages!
Autographed Basketball By Favorite Player
For any die-hard NBA fan, an autographed basketball by their favorite player is a dream come true. It's not just a ball; it's a piece of history that they can cherish forever.
Imagine the look on their face when they unwrap the gift and see that signature staring back at them! Whether it's LeBron James, Kobe Bryant or Michael Jordan, an autographed basketball will be treasured for years to come and may even become a family heirloom passed down from generation to generation. Just make sure you purchase from reputable sources to ensure authenticity of the signature.
Team Logo Cap or Hat
One of the most classic and practical gifts for NBA fans is a team logo cap or hat. Not only does it show off their love for their favorite team, but it also serves as a functional accessory to shield them from the sun during outdoor games or activities.
Caps and hats come in various styles such as snapbacks, fitted caps, beanies, bucket hats and more – so you can choose one that suits your loved one's personal style. Plus, with so many different designs available featuring each team's unique logo and colors, there are endless options to choose from!
Official NBA Basketball
One of the most iconic symbols of the NBA is, without a doubt, their official basketball. Any true fan would love to have one in their collection or even use it for pick-up games with friends.
The official NBA basketball is made from high-quality leather and features the league's signature logo along with commissioner Adam Silver's signature. It also has a great grip that allows players to handle it easily while dribbling and shooting hoops like their favorite stars on TV.
Whether you're buying it as a gift for someone else or treating yourself, an official NBA basketball will definitely bring joy to any fan who loves playing or watching this exciting sport!
Tickets to an Upcoming Game
One of the best gifts you can give an NBA fan is tickets to an upcoming game. Whether it's their favorite team or just a highly anticipated matchup, there's nothing quite like experiencing the excitement and energy of a live basketball game.
Plus, with so many different seating options available at various price points, you can find something that fits your budget while still giving them an unforgettable experience. Just be sure to check the schedule ahead of time and plan accordingly – popular games tend to sell out quickly!
NBA Coffee Mug With a Team Logo On It.
For NBA fans who love to start their day with a cup of coffee, an NBA coffee mug with their favorite team's logo on it is the perfect gift. Not only will they be able to show off their team pride while sipping on their morning brew, but they'll also have a functional and durable mug that can withstand daily use.
With so many teams and designs available, you're sure to find the perfect match for any fan in your life. Plus, this gift is practical enough that it won't just sit on a shelf collecting dust – it'll get used every single day!
A Customized Phone Case Featuring Their Favourite Player/team.
One of the best ways to show off your love for your favourite NBA team or player is by sporting a customized phone case. Not only does it protect your phone, but it also adds a personal touch that reflects your fandom.
You can choose from various designs and styles, including cases featuring iconic moments in basketball history or graphics of popular players like LeBron James or Steph Curry. Whether you're looking for something sleek and simple or bold and eye-catching, there's sure to be a customized phone case out there that will make any NBA fan happy.
Dunking Over-the-door Mini Hoop Set .
For NBA fans who love to play basketball themselves, the Dunking over-the-door mini hoop set is a perfect gift. This mini hoop can be easily mounted on any door and comes with a foam ball for safe indoor play.
It's an excellent way to practice your dunking skills or just have some fun shooting hoops during breaks from work or studying. Plus, it's compact enough that you can take it with you wherever you go – whether that's to the office or on vacation!
Sneaker Shoes of Any Famous Nba Players Like Jordan, Lebron James Etc.,
If you're looking for a gift that any NBA fan would love, consider getting them a pair of sneaker shoes from their favorite player. From Michael Jordan's iconic Air Jordans to LeBron James' signature Nike sneakers, there are plenty of options to choose from.
Not only do these shoes look great on the court, but they also make stylish additions to any casual outfit. Plus, many sneakerheads collect and trade rare or limited edition basketball shoes as part of their hobby – so your gift could become an instant hit among collectors!
Team Color Sunglasses
One of the best ways to show support for your favorite NBA team is by wearing their colors. And what better way to do that than with a pair of team color sunglasses? These stylish shades come in a variety of designs and are perfect for any fan who wants to add some flair to their game day outfit.
Not only do they protect your eyes from the sun, but they also make it easy for you to spot fellow fans in the crowd. Whether you're at home watching on TV or cheering from the stands, these sunglasses are sure to be a hit with any NBA enthusiast on your gift list.
Teams' History Book Collection
For NBA fans who love to delve into the history of their favorite teams, a collection of team history books is an excellent gift idea. These books provide in-depth information about the team's origins, key players and coaches throughout its existence, memorable games and moments that shaped its legacy.
They also include rare photographs and interesting anecdotes that will keep any fan engaged for hours on end.
Whether it's a book about Michael Jordan's legendary career with the Chicago Bulls or one detailing Kobe Bryant's journey with the Los Angeles Lakers, these collections are perfect for those who want to learn more about their favorite teams' pasts while enjoying some great storytelling along the way. Plus, they make great coffee table additions for any sports enthusiast looking to impress guests!
NBA Themed Board Games (like Monopoly)
If you're looking for a gift that combines the excitement of basketball with the fun of board games, then NBA themed board games are perfect. Games like Monopoly have been given an NBA twist, allowing fans to buy and trade their favorite teams and players instead of properties.
These games also come with unique game pieces such as miniature basketballs or player figurines. Not only do they provide hours of entertainment, but they also allow fans to show off their knowledge about the league while competing against friends and family members in a friendly competition.
Wall Posters and Stickers
If you're looking for a gift that will add some personality to an NBA fan's room, consider wall posters and stickers. There are countless options available featuring players, teams, and iconic moments in basketball history.
From classic Michael Jordan posters to modern designs featuring LeBron James or Steph Curry, there is something for every fan's taste. Stickers can also be a fun addition to laptops or water bottles as a way of showing off team pride on the go.
Plus, these gifts are relatively inexpensive but still thoughtful and impactful additions to any NBA lover's collection.
Portable Bluetooth Speaker With Your Teams' Logo
If you're looking for a gift that will allow your NBA fan to enjoy their favorite tunes while showing off their team spirit, consider getting them a portable Bluetooth speaker with their team's logo. These speakers are not only functional but also stylish and can be used both indoors and outdoors.
Your loved one can take it to the beach, park or even use it during tailgating parties before games. With high-quality sound output, they'll be able to listen to music or podcasts without any distortion or interference.
Plus, every time they look at the speaker adorned with their favorite team's logo, they'll feel proud of being a true fan!
Basketball Card Packs
If you're looking for a gift that will excite any NBA fan, consider getting them basketball card packs. These packs contain a variety of trading cards featuring some of the biggest names in the league's history, as well as current stars.
Not only are they fun to collect and trade with friends, but they also provide an opportunity to learn more about players' stats and achievements. Plus, opening up a pack can be just as thrilling as watching your favorite team win a game! Whether your loved one is new to collecting or has been doing it for years, basketball card packs make for an excellent gift option that is sure to bring joy and excitement.
Fan's Guidebook to the Best Courts in America
As an NBA fan, there's nothing quite like watching a game live and in person. But not all basketball courts are created equal.
Some have historic significance, while others boast state-of-the-art technology and amenities. If you're planning a road trip to catch some games this season, make sure to add these top courts to your itinerary.
First up is Madison Square Garden in New York City – the "Mecca of Basketball." This iconic arena has hosted countless legendary players and moments throughout its history.
Next on the list is Staples Center in Los Angeles – home of both the Lakers and Clippers. With its sleek design and modern features, it's no wonder why this court has become a favorite among fans.
For those looking for something more unique, head over to Chesapeake Energy Arena in Oklahoma City where you can experience one of the loudest crowds in sports cheering on their beloved Thunder team.
No matter which court you choose to visit as an NBA fan, each offers its own special atmosphere that will leave lasting memories long after the final buzzer sounds.
Personalized Keychains & Lanyards
For NBA fans who love to show off their team pride, personalized keychains and lanyards are a great gift idea. These small accessories can be customized with the fan's favorite team logo or even their own name.
Not only do they make it easy to keep track of keys or ID cards, but they also add a touch of personalization to everyday items. Plus, when attending games or events, having a unique keychain or lanyard can help fans stand out in the crowd and show support for their beloved team.
Basketball Training Equipment
If you have a basketball fan in your life who is also an aspiring player, then basketball training equipment can be the perfect gift for them. From dribbling aids to shooting targets, there are plenty of options available that can help improve their skills on the court.
For example, a resistance band set can help with strength and agility training while a jump rope is great for improving footwork and endurance. A rebounding net or ball return system allows players to practice shooting without having to constantly retrieve the ball themselves.
These gifts not only show your support for their love of basketball but also encourage them to continue working towards becoming better players.
Liked this? Here's more: