Ugly Christmas sweaters are all the rage come Holidays. So here are the top 10 funny Christmas sweaters for the contest.
I don't know what makes ugly Christmas sweaters so special and when it all started, but they are irresistible. And now, with all the annual ugliest sweater contest going on, you just have to up everyone with your funny sweater.
How do you do that when there are so many choices available. And how do you stay original? That's where Awesome Geek Stuff comes in with our exclusive selection of funny and ugly Christmas sweaters. Brace yourself and check these out – you'll love them!
Here's what you will find:
Ugly Hairy Body Christmas Sweater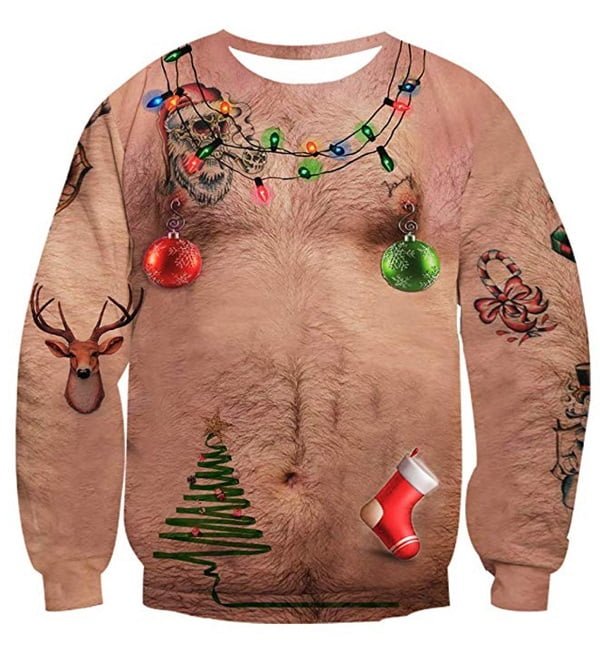 So you want to talk about funny Christmas sweaters, do ya? Well, here's is one that is so ugly it looks like it was designed by a topless dancer. Curiously enough, it also has that certain bit of whimsical charm that makes it adorably ugly as opposed to being ugly-ugly.
Why do you want this sweater? If you want to win the Ugliest Christmas Sweater Contest.
Trump Make Christmas Great Again Sweater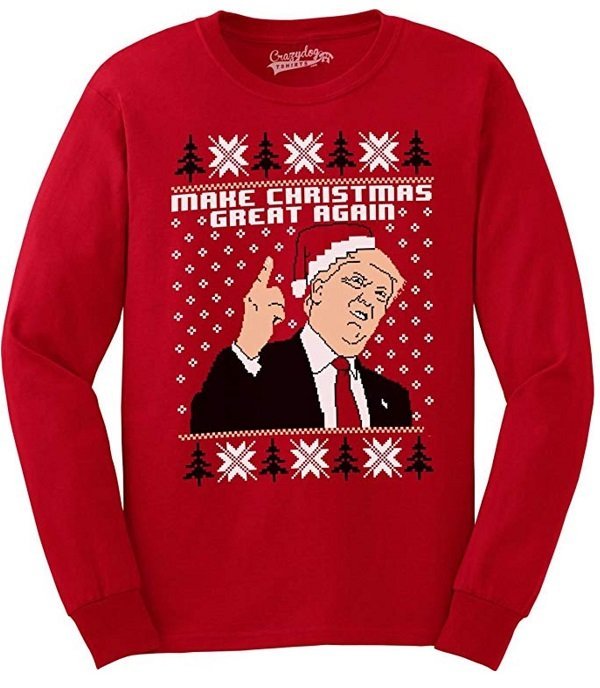 The American Renaissance invades Christmas now that the political season is done. Check out this MAGA-inspired spoof Christmas sweater that features our glorious leader in a Santa hat and dispensing his own brand of Ho-ho-ho to the masses. It comes in red, naturally, and is made in the USA.
Why would you want this sweater? If you love (hate) Trump, or know someone who does.
Puppy Rudolph Funny Christmas Sweater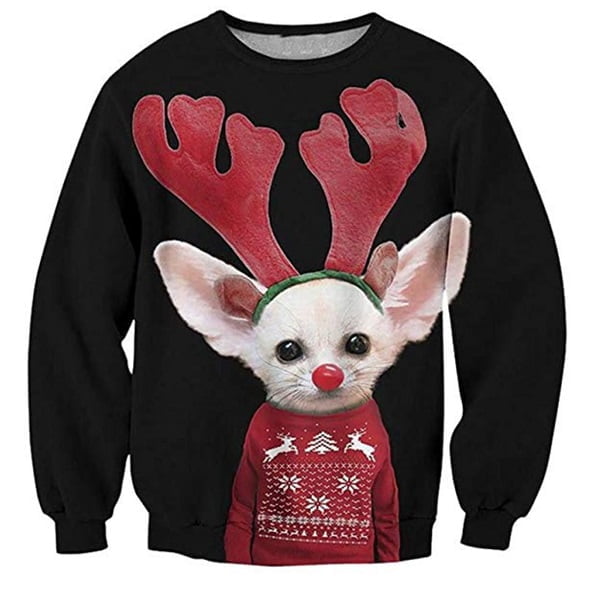 Awwww, now here is the cutest little Christmas sweater that features an adorable little doggie moonlighting as Rudolph the Red-Nosed Reindeer. The asymmetrical layout and very effective use of colorful contrast against the black background make this one a keeper for next year as well.
Why this sweater is so great? It's cute! And who doesn't love adorable puppies in Christmas attire?
Gingerbread Man Roid Rage Funny Christmas Sweater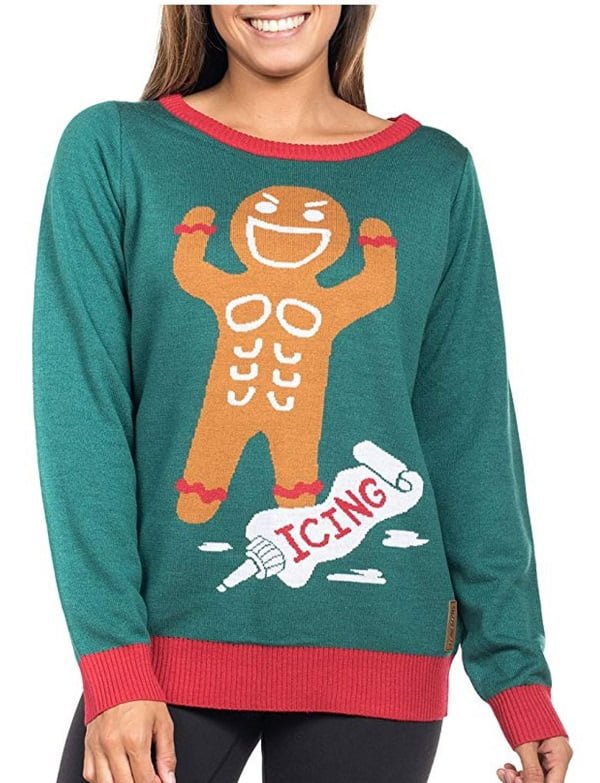 Now, in the event of your entry into an Ugly Christmas Sweater contest, this one offers some exciting possibilities for victory. Chief among these is the need to explain what it is supposed to be portraying. After all, a rampant gingerbread man standing triumphantly over an empty tube of icing doesn't seem to suggest anything off the top of your head.
Why this sweater is a must-have? It's witty in a weird way. That's exactly the kind of a sweater that gets compliments.
Bah Hum Pug Ugly Christmas Sweater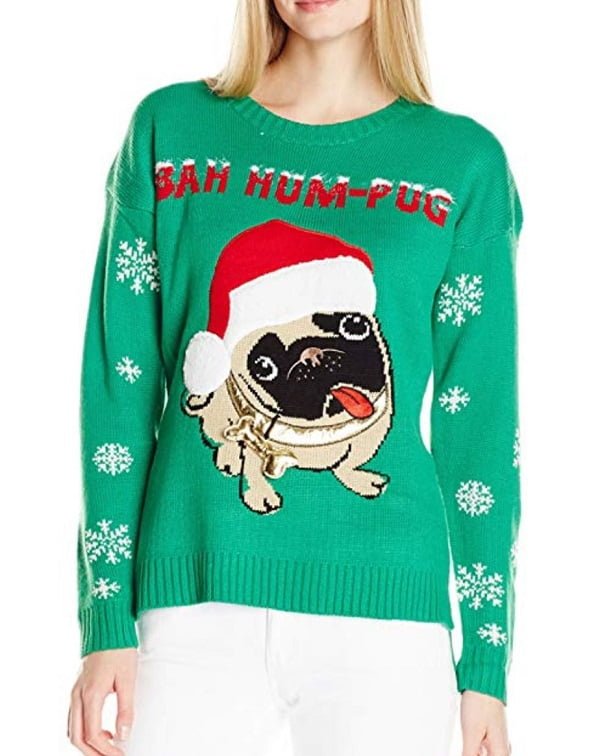 One of the most important attributes of an ugly Christmas sweater is for it to be simultaneously cute as well as slightly obstreperous in its presentation. This Bah Hum Pug little doggie is all dressed up for the holidays but doesn't seem to be too thrilled to be there. Yet his Santa hat and gold collar provide some three-dimensional pop to the presentation.
Why do you want this sweater? If you have a thing for pugs (you know you do).
Christmas Pudding Boobs Funny Sweater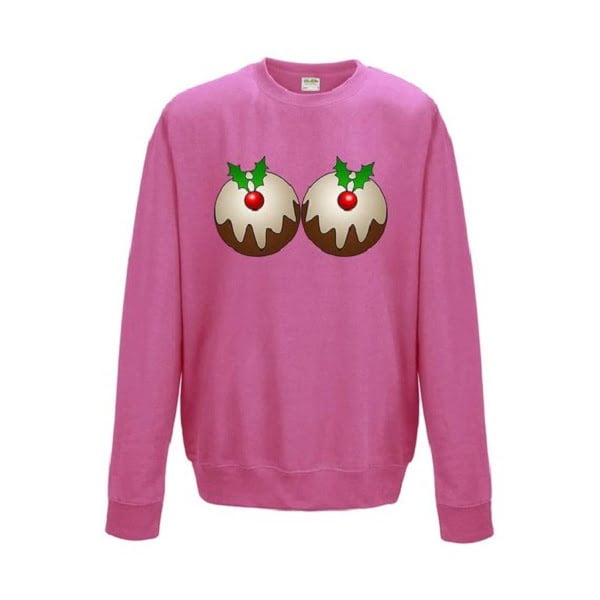 Okay, this one is not for the kids. Okay? Not for the kids. They grow up too soon as it is, and this one will only hasten that process right along. But for those adult get-togethers, you are going to be the smash hit of the affair when you show up in this show-off of a Christmas sweater.
Why should you consider this sweater? It's tacky and rude but that's what ugly Christmas sweaters are all about.
Don't Stop Believin' Funny Christmas Sweater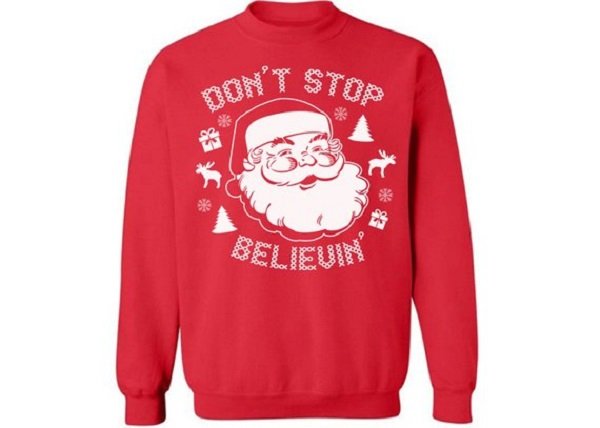 For those who don't have their hearts into an ugly Christmas sweater, this may be the ultimate compromise. In one way, it's certainly tacky. In another, it lets the world know that you still yearn for the goodness and simplicity that only being nice at Christmas can achieve.
Why would you love this sweater? If you still have the childish Christmas spirit in you and you want to let the world know about it in a tacky way.
Llama Ugly Christmas Sweater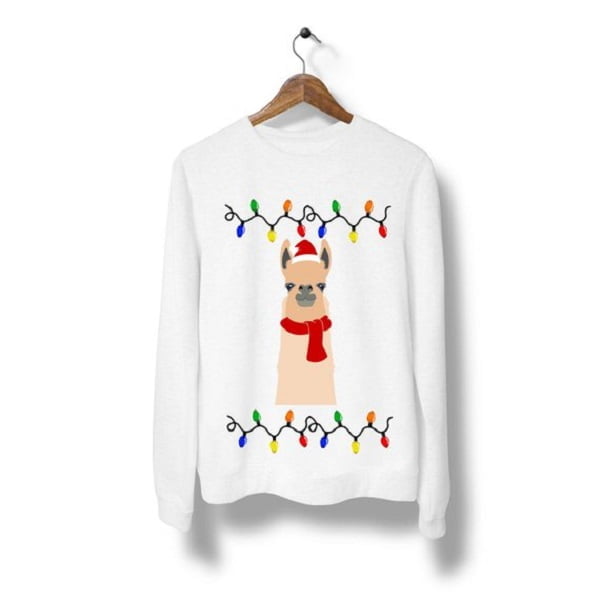 Some people just don't get it. Christmas is all about the traditional memes—the nativity scene, Santa on the roof, stockings on the mantelpiece. It seems like Christmas is everywhere and about everything. But a prominently-displayed Christmas Llama on funny Christmas sweaters? That's going too far, people. You gotta draw the line somewhere.
Why do you need this sweater? Llamas are cool. Don't let anyone tell you otherwise.
Beard Season Funny Christmas Sweater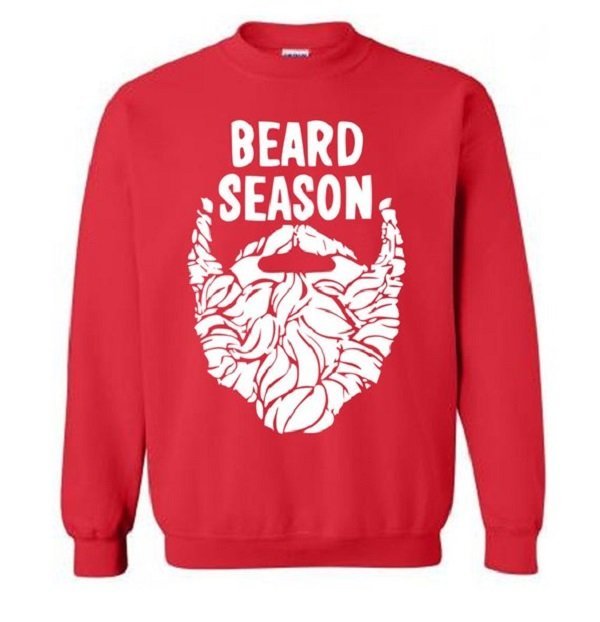 Now here is a contender for "The Last Thing I Think Of When I Think Of Christmas." Is this really what's on your mind when December rolls around? But it does make you wonder what Santa looks like on a July holiday in Barbados.
What makes this sweater so great? Because Santa has a beard and beards are cool. And this sweater is ugly.
Sphynx Cat Ugly Christmas Sweater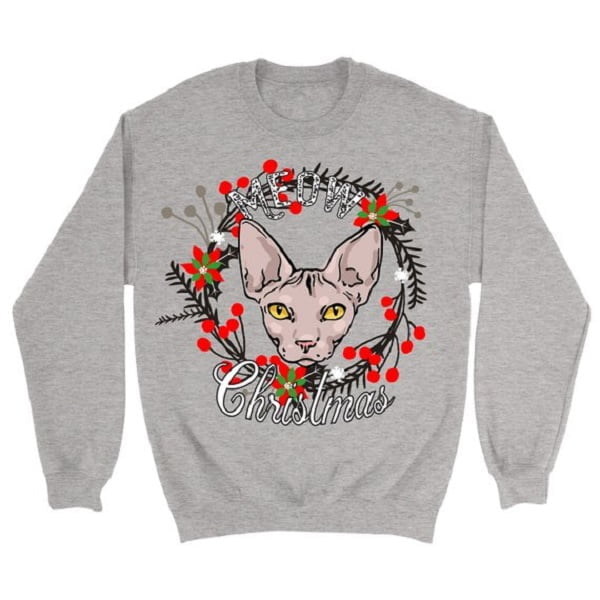 You want ugly? I got your ugly Christmas sweater right here. This is so ugly that it's just so tasteless and bizarre and, well, hardly in keeping with the spirit of the season. I like it. Does that make me a bad person?
Why would you want this sweater? Because Sphynx cats are ugly and their place is on an ugly Christmas sweater. Yuk!
Liked this? Here's more: