Looking for a cool ring to make an awesome gift to someone? Here are the top 10 cool rings that will make a unique present for any occasion.
A ring is a great gift only for that special occasion. It can be a nice gesture and even a unique gift that will surprise the person receiving it. The trick is to find a cool ring that they will appreciate.
We've picked ten cool rings in several styles and precious metals that will help you choose. It all depends on what the person likes and their lifestyle. So check out these excellent options and choose carefully!
Black Jack Spades Cool Ring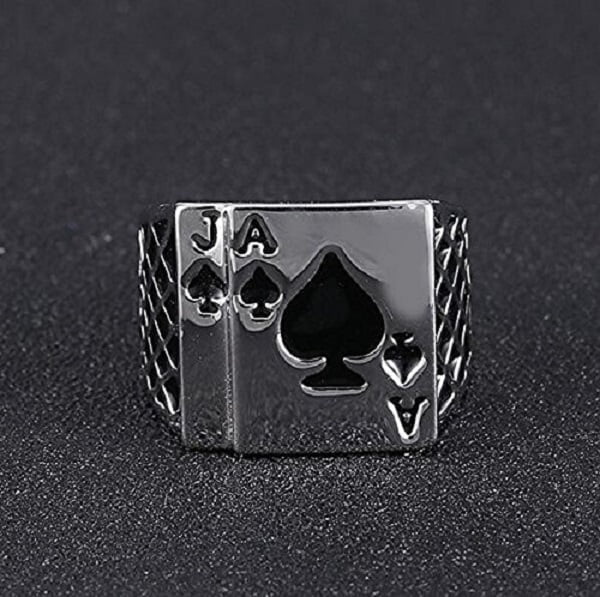 With its smooth surface and unique design, this 18 karats white gold plated piece of jewelry falls in the cool rings category. It makes for a remarkable gift for your father, grandfather, husband, boyfriend or any other male in your life you deem cool enough for this gem.
What makes this ring special? It looks fancy but it's not expensive.
Tire Pattern Cool Ring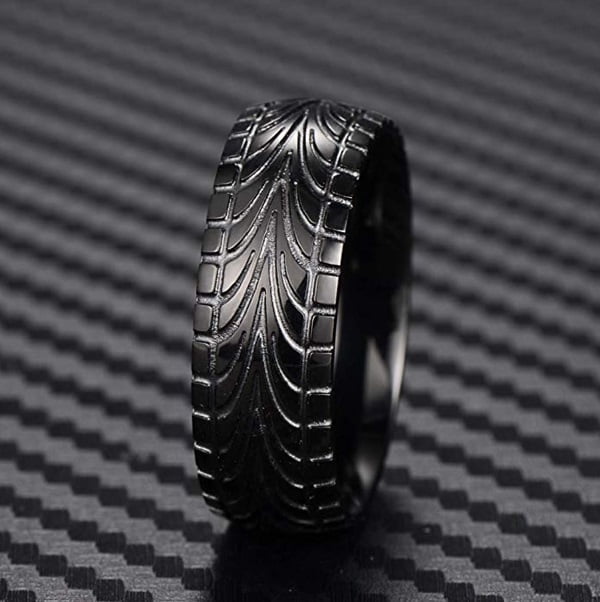 With this super impressive and truly realistic tire tread pattern, this outstanding black stainless steel, ion-plated ring has undoubtedly earned its stripes as a part of the cool kids' crew. Innovative ion-plating technology is used to ensure durability and to provide the ring with its dark, deep black color.
Why this rings is cool? The ion-plated black look in the tire pattern makes the ring really manly.
Wrench Cool Ring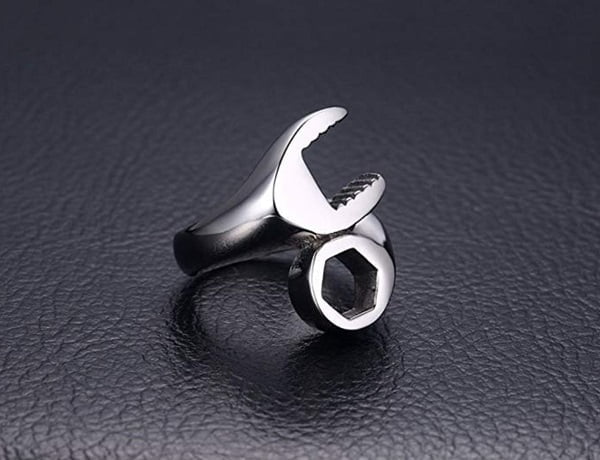 There is no denying that this high-quality stainless steel wrench ring embodies coolness and masculinity. This spectacular piece is sure to complement the personal style of a broad cross-section of men. It could be the ideal gift for the building contractor, interior designer, biker or the handyman in your life.
What makes this ring so great? Any handyman will love the stainless steel wrench look around their finger.
Chain Cool Ring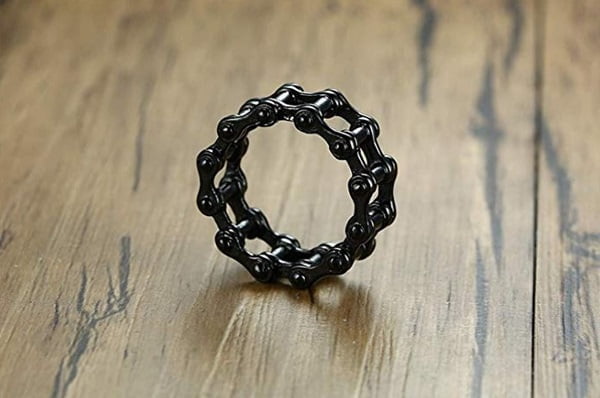 The boldness of the color and the polished finish of this black ion-plated, stainless steel motorcycle biker ring place it firmly into the category of the top 10 cool rings. Suitable for any occasion, this exceptional piece guarantees a comfortable fit through its smooth edges and the inner surface.
What's so special about this ring? The motorcycle chain looks is cool enough and not only for a biker.
Wide Band Silver Cool Ring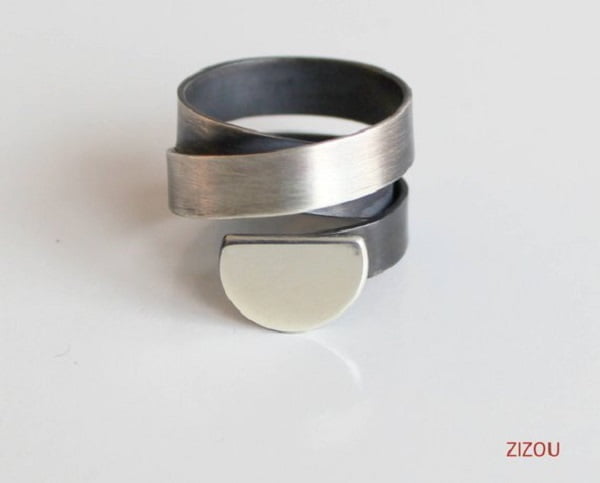 Made from recycled silver, this remarkable ring is made to order. Each ring is unique, and as such, while it will be very similar to the one in the photo, it will not be identical. Best of all, this modern sterling silver ring is wide and very comfortable to wear.
Why this rings is so great? Made from real silver this rings is real jewelry and it's unique enough for a unique lady in your life.
Rhodium Wrench Cool Ring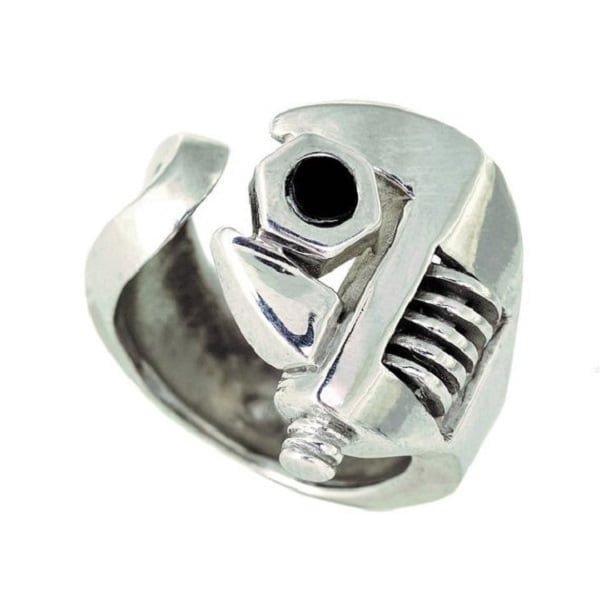 This sterling silver wrench ring, with its black onyx gemstone, has a unique and intricate design that is intended to adorn the finger of both men and women. It is plated in rhodium metal, which is from the platinum group. It is lighter in color than sterling and adds an added color effect.
What makes this ring special? It's made of silver and plated in rhodium. That and the design makes this ring really unique.
Silver Grinder Cool Ring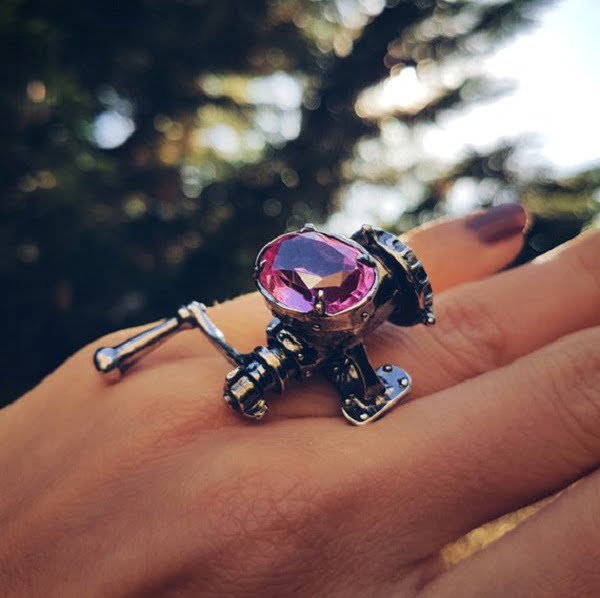 The odd look of this Avant-garde grinder ring does nothing to take away from its stylishness. The purple color of the gemstone adds a kind of regal quality to this super cool ring. This handmade work of art is sure to induce many compliments every time the ring is worn.
Why this ring is so cool? It's the most unique cool ring on the list and we've gone through quite a few of them.
Movable Oxidized Silver Cool Ring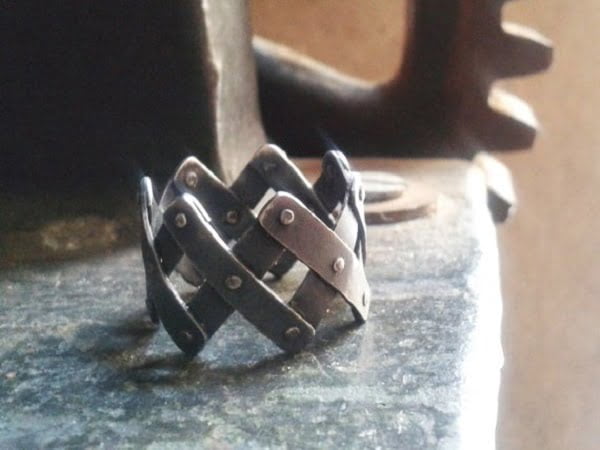 These handmade oxidized sterling silver wedding rings are designed with the cool folk in mind. They are movable and created in 925 oxidized silver. They are made to order, and the details are impressively impeccable. You can request finishes like polished, matte, hammered fine or strong.
Why this ring is so great? The look is an awesome Medieval-fantasy style with movable parts. If you're a fan it's a gift to one, you'll love it.
Lord Rabbit Skull Cool Ring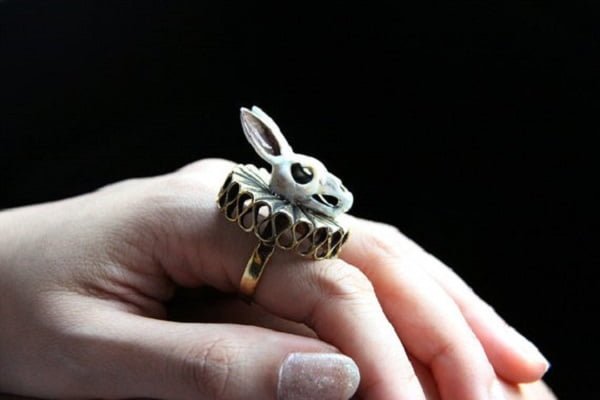 This fascinating fantasy ring features the skull of lord rabbit. A warm white and grey hand-painted color procedure was used to bring out the details of the head. The collar of this unique edition has a golden tone that makes the ring stand out even more.
What makes this ring so great? The design of this cool rings is unique and whimsical. Get it while it's available (there are similar options on this Etsy shop if it's gone).
The Axes Titanium Guitar Cool Ring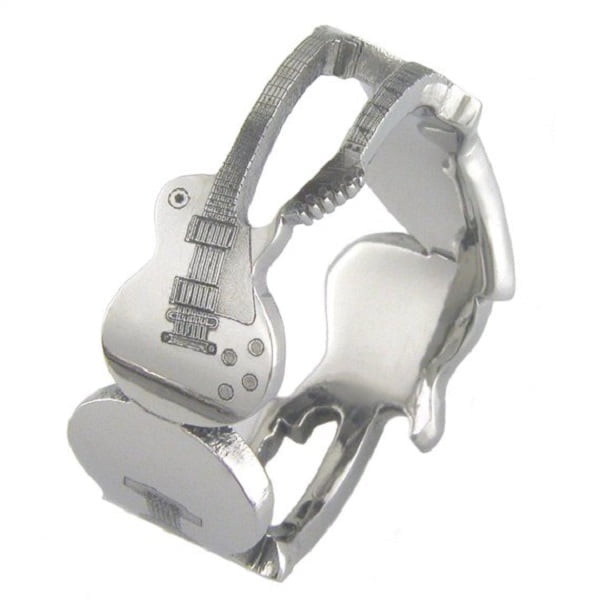 There are four delicately detailed guitars all around this titanium ring. A closer look at this ring will reveal knobs, frets, strings and other notable features of the guitar. This laser cut and a laser-engraved ring would be a perfect gift for both the aspiring or seasoned guitarist.
Why this ring is so cool? Any rockheads out there? It's the best gift to one.