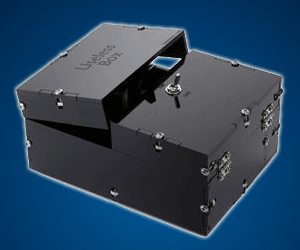 You've probably seen these boxes all around YouTube – You flip a switch, and the box closes itself. It's a completely useless box but it's very fascinating if you like useless machines.
If you are one of those geeks who loves to watch videos about useless machines, you have probably seen these awesome boxes all around YouTube. You flip a switch, the box opens and an arm pops out, the arm push the switch back and the box closes. That's it! Isn't it brilliant? The useless box has absolutely no other practical uses than that it's completely useless and we like it!
1. Flip the switch:
2. And the box will close itself!:
Trick your friend with this shiny, black box. Tell them to flip the switch and they will wonder on what it does. Maybe they will think that the box launch a nuclear attack, tase them or cut their finger off. Whatever they think it does, they will without a doubt get a big smile on their face when they see that the box just closes itself again... And doesn't do a dang thing!
The Useless Box arrives as a 50-pieces kit. But don't worry, it's actually pretty easy to assemble. All you need is basic soldering and screwdriver skills.
NB! Soldering iron and tools are not included as well as the two AA batteries that power the box.
If you like useless machines, you are going to love this one because the useless box is as useless as it can be!
We go around the web looking for new cool geeky items to surprise you. Today we've found Useless Box and we think it's awesome. So go ahead and check it out, and leave your comments and share it with your friends on Facebook, Twitter, Pinterest or Google+. If you do get this geeky gadget for yourself or as a present for someone else, tell us how you liked it, that would be awesome! :)
Categories: $25 to $50, All, All Prices, Toys & Fun