Did you know that the owners of Mass Effect 3 Collector's Edition had the opportunity to get their Shepard(game's protagonist) an N7 hoodie? Now you can be like Shepard and walk around with N7 hoodie of your own.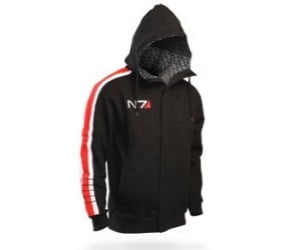 This hoodie is made of 80% cotton / 20% polyester and has N7 embroidery on the chest and custom sewed armor stripe panels down the right sleeve. Additionally, there are 3 exterior and 2 interior pockets, N7 zipper, and the interior have loops through which you can feed your headphones.
N7 Elite Armor Stripe hoodie is for those Mass Effect trilogy fans who enjoy being Commander Shepard not only in the game but also in real life.
Liked this? Here's more: