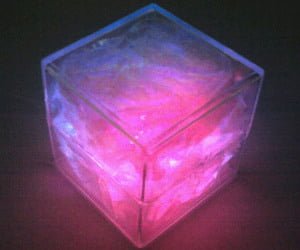 Need something geeky though not as much practical for your home decor? How about the GlowPixel – a little transparent cube that alternates random colored lights. It's full of geeky awesomeness.
You can use it to decorate your home or keep it on your desk in the office. It will attract attention from other geeks and regular folks alike. It's colorful, it's pretty, it's eye catching - that's what the GlowPixel is all about.
The little cube is 1.35" x 1.35" x 1.35" in size and has a tri-color LED at its core which alternates red, green and blue lights randomly. The LED won't illuminate the room much but it will look super cool.
It may not be the most useful thing in the world but it sure is geeky and pretty and cool, especially if you like colorful lights.
You can get one for yourself or as a gift to anyone who likes little geeky things like this.
Here's how the GlowPixel looks like in action:
We go around the web looking for new cool geeky items to surprise you. Today we've found Glow Pixel and we think it's awesome. So go ahead and check it out, and leave your comments and share it with your friends on Facebook, Twitter, Pinterest or Google+. If you do get this geeky gadget for yourself or as a present for someone else, tell us how you liked it, that would be awesome! :)
Categories: $1 to $25, All, All Prices, For Her, For Him, For The Youngster, Tech