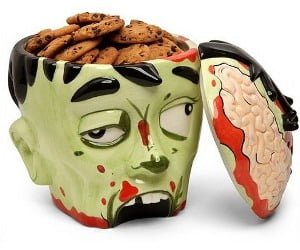 Zombies like opening people's sculls and eating their brain out. But what happens when you open a zombie's head? If it's a zombie head cookie jar like this one, you would find cookies inside.
So imagine opening a zombie's head and grabbing some cookies for a snack. Take that, zombies! You think you're so cool cracking human heads and eating the brain. Who's laughing now!
Though this cookie jar is made of ceramic and not an actual zombie head, it's still pretty cool looking. It can be used to store cookies, candy, or any other snacks. It looks scary and may or may not scare off little kids (and some adults) from your stash.
We go around the web looking for new cool geeky items to surprise you. Today we've found Zombie Head Cookie Jar and we think it's awesome. So go ahead and check it out, and leave your comments and share it with your friends on Facebook, Twitter, Pinterest or Google+. If you do get this geeky gadget for yourself or as a present for someone else, tell us how you liked it, that would be awesome! :)
Categories: $25 to $50, All, All Prices, Home & Kitchen
Comments