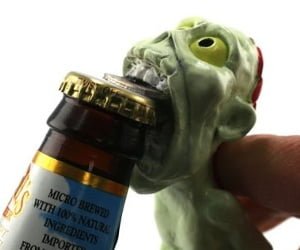 Zombies are scary creatures, they eat human brain. But anything that is able to crack human skull open must have some practical use too. Introducing a zombie bottle opener.
That's right those rotten but still strong teeth are good for more than cracking skulls, they're great for opening bottles too. Who said zombies can't be useful in your daily life?
These bottle openers are hand crafted each with unique handmade painting. They're made of steel and urethane resin so they're pretty tough and will open any bottle.
So grab a zombie, grab a beer and pop that baby open. Using zombies to open bottles has never been so easy and fun before. And if you're looking for a crazy but useful gift for someone this is a pretty darn good candidate.
We go around the web looking for new cool geeky items to surprise you. Today we've found Zombie Bottle Opener and we think it's awesome. So go ahead and check it out, and leave your comments and share it with your friends on Facebook, Twitter, Pinterest or Google+. If you do get this geeky gadget for yourself or as a present for someone else, tell us how you liked it, that would be awesome! :)
Categories: $1 to $25, All, All Prices, For Him, Home & Kitchen, Knives, Tools & Survival