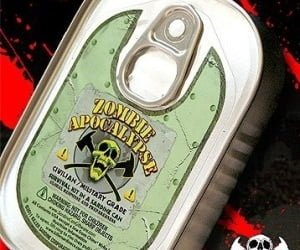 You can't survive the zombie apocalypse without a good survival kit that's actually made for the situation! And with this awesome, but still useful zombie apocalypse survival kit in a sardine can you're always prepared!
The geeks has known for centuries that the zombie apocalypse will come. And one thing is for sure, the zombie apocalypse will come very soon so it's best to be prepared!
With this awesome zombie apocalypse survival kit in a sardine can you will have everything you will need to survive the apocalypse!
In the sardine can you will find matches, a compass, a whistle, first aid instructions, a razor blade, a pencil, pain relievers, a fire starter cube, bandage, a "energy nugget", a fish hook + fishing line on a spool, duct tape, a pencil, note paper, sugar, salt, gum, a reclosable bag, antibiotic ointment, tea, a safety pin, a wire clip and a alcohol prep pad. All that in a tiny sardine can that you easily can wear in your pocket!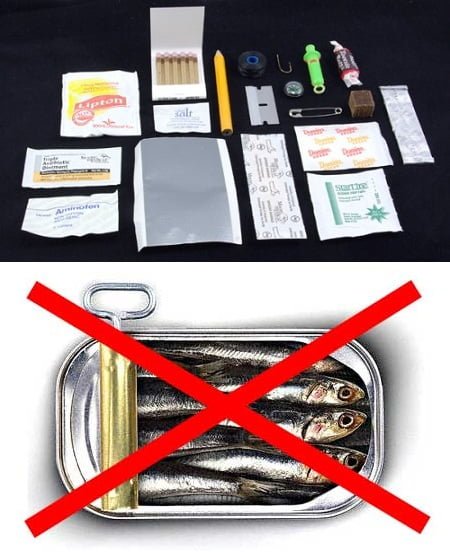 And don't be afraid if you drop the Zombie Apocalypse Survival Kit in a Sardine Can in a lake or something when you are escaping from the zombies because the sardine can floats when it's unopened! You can also use the can itself as a reflective signal surface, cook your food in it, bail water with it and drink from it! So only the can itself can be used to a lot of things in the upcoming apocalypse!
This can also be the perfect gift for the preppers who think they have it all!
We go around the web looking for new cool geeky items to surprise you. Today we've found Zombie Apocalypse Sardine Can and we think it's awesome. So go ahead and check it out, and leave your comments and share it with your friends on Facebook, Twitter, Pinterest or Google+. If you do get this geeky gadget for yourself or as a present for someone else, tell us how you liked it, that would be awesome! :)
Categories: $1 to $25, All, All Prices, Knives, Tools & Survival, Popular Product