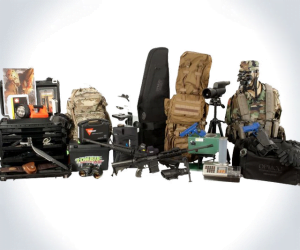 If you really want to be prepared for the zombie apocalypse and can't get enough survival gear to your collection, then you should get your hands on this badass Zombie Extermination, Research and Operations kit.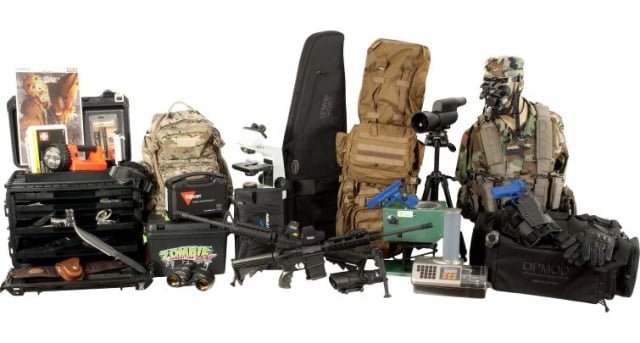 You can't just settle for a baseball bat and think you're prepared for the approaching zombie apocalypse. You can fine include a bat in your collection of survival gear, but it's not the most effective weapon to battle the undead with. The most effective way to kill a zombie on is in fact to shoot them in the head or stab them with some serious knives because zombies fear lead and blades like dogs fear vacuum cleaners. And with the items in this survival kit, the zombie killing part will become almost as easy as stealing candy from a baby.
A geek can never be prepared enough for the upcoming zombie apocalypse. Because who knows what it takes to survive all the zombie waves where the undead tries to eat your brain and all the bandits that tries to rob and loot you? Therefore, some real enthusiasts have put together something that must be the ultimate survival kit of all time. Let us introduce the stunning Z.E.R.O. (Zombie Extermination, Research and Operations) survival kit!
This badass $24,000 kit contains almost everything you need in order to survive the harsh apocalypse and defend yourself against hostile enemies, both against brain eating zombies, and against bandits that tries to loot your safe house. Because if you want to survive in such hostile conditions, you need to upgrade your guns with various weapon accessories that's appropriate to the situation and you also need to be able to produce your own ammunition because you don't want to face ammo shortage when the zombies are surrounding your safe house or your hideout. But the Z.E.R.O. kit contains more than just weapon accessories. It also contains various protective gear as kevlar gloves to protect your fists in close quarter combats, night vision goggles so you can suprise your enemies when it's dark, a first aid kit so you can treat your bite wounds, a portable and foldable solar panel so you can charge various electronic devices and it even has laboratory equipment so you can invent and produce your own serum to cure those infected by the t-Virus.
With the Z.E.R.O. kit in your collection, we're pretty sure that you'll be able to kick the zombies' asses and face any situation so you can rebuild and repopulate the earth again in the aftermath.
This is what the Zombie Extermination, Research and Operations kit contains:

Weapon Accessories
-Zombie Target 6-Pack to practice you zombie shooting skills
-Long Range Rail Mounted Flashlight
-Extreme Heavy Duty Swivel Bipod for steady aim
-Scopecoat Cover for EoTech Zombie Stopper Red Dot Sight
-Monocular Gen 3 PINNACLE Night Vision Scope
-Tactical Holster w/ Quick Release Leg Harness
-10x50 Military Binoculars Laser Rangefinder
-20-60x80mm Black Spotting Scope
-Thermal Eye X50 100x800px Waterproof Thermal Imaging Camera
-Dual Beam Laser, Visible Green Laser
-Defense Handguard w/Rails For Remington Model 870
-6x48 Dual Ill Riflescope w/Mount, Green Chevron .308 Reticle
-Premium Padded Leather Rifle Sling
-Crimson Trace Full size Glock Laser Zombie Edition
-Eotech Zombie Stopper Red Dot Holographic Sight
-6V LED Shotgun Forend Weaponlight
-Tactical Zombie Scope 1.56-6x32mm Z-CIRT Reticle Black
-Zombie Ammo Can to store your precious bullets

Knives
-Browning Zombie Apocalypse Knife for close quarter combats with zombies
-SOG Tigershark Elite Tactical Knife for close quarter combats with bandits

Protective Gear
-Rapid Reload Chest Carrier for AK-47 Magazines
-Tactical Assault Gear Rampage Releasable Armor Carrier
-Stanley Large First Aid Kit to treat your freak wounds
-Blackhawk S.O.L.A.G. HD with Kevlar
-Oakley Commit SQ Sunglasses
-Military/Tactical Goggles
-Tactical Assault Gear Intrepid Chest Rig w/Grenade & Mag Pouches

Cases and Backpacks
-OPMOD Professional Range Bag, Pull Out & Brass
-Eberlestock G4 Operator Pack, Multicam G4MM
-OPMOD Floating MSR Extreme Gun Case
-Camelbak BFM Hydration Pack - 100 oz/3.0L

Reloading and Gunsmithing Equipment to clean your guns and to make your own ammo
-RCBS Pro 2000 Progressive Press
-Lyman Gen 5 Digital Powder System 115/230V
-Otis Technology Zombie Gun Cleaning System
-RCBS Pro-Melt Furnace, 240 V-ac Europe

Tools
-Mobile Tool Chest with Drawers
-Tactical Pen w/FREE 1AA CREE Flashlight
-Battle Mug with carry handle - The only mug that's able to take down a zombie or a bandit.
-SUREFIRE SF123A BULK BOX, 400 EA. 3 VOLT LITHIUM BATTERIES
-USB Foldable Solar Panel, 3100 mA Output
-Compasses w/ Anti Static Treatment
-5.11 Tactical Field Ops Waterproof Uni-Directional Bezel Watch
-LED Lantern, Light Only w/ No Charger
-Leatherman MUT Black Multi Tool w/ Black Molle Sheath

Laboratory Equipment
-UNICO Shake-It Pipette Shaker
-Qorpak Bottle Beakers, Medium Rounds, Wide Mouth
-Samco Disposable Transfer Pipets
-Celestron Professional Compound Microscope
-Labnet Labpette R Repeating Pipette
We go around the web looking for new cool geeky items to surprise you. Today we've found Z.E.R.O. Zombie Survival Kit and we think it's awesome. So go ahead and check it out, and leave your comments and share it with your friends on Facebook, Twitter, Pinterest or Google+. If you do get this geeky gadget for yourself or as a present for someone else, tell us how you liked it, that would be awesome! :)
Categories: $500 & Above, All, All Prices, For Him, Knives, Tools & Survival