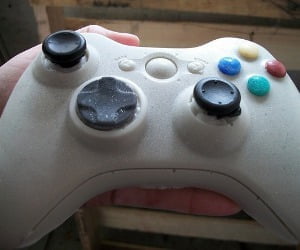 Gamers have to take showers too, even though they forget that sometimes during their gaming marathons. So here's some incentive to wash your gamer selves – a soap bar that looks like an actual Xbox 360 controller.
Not only does it look like one, it's the size of an Xbox 360 controller. It has all the buttons and levers and colors. The buttons and levers are raised which adds to the realistic look.
The soap itself is a high quality glycerin soap with grapefruit scented fragrance oil.
There are regular gamers and hardcore gamers who use an Xbox controller even in the shower. It will surely surprise your guests too. Just be sure not to mix it up with a real controller.
We go around the web looking for new cool geeky items to surprise you. Today we've found Xbox 360 Controller Soap and we think it's awesome. So go ahead and check it out, and leave your comments and share it with your friends on Facebook, Twitter, Pinterest or Google+. If you do get this geeky gadget for yourself or as a present for someone else, tell us how you liked it, that would be awesome! :)
Categories: $1 to $25, All, All Prices, Other