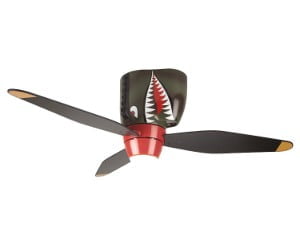 Decorate your home with this mean looking ceiling fan depicting the P-40 fighter jets used in World War II. It's a great home decoration for aviation fans as well as anyone looking for an interesting decorative touch.
The fan depicts a fiery eyed monster that the plane is. It has a painted flush mount body and triple blades in a rich wood finish with painted tips.
It has a 3-speed reversible motor with a 30-year warranty and a light kit tha uses a 60 watt candelabra bulb. This beast measures at 48 inches blade span and 17 inch height.
If you want to impress your friends with something that looks like is about to break through the ceiling and unleash the hell as a fighter jet in World War II would, this ceiling fan is it.
Be refreshed and amazed!
We go around the web looking for new cool geeky items to surprise you. Today we've found WWII Warplane Ceiling Fan and we think it's awesome. So go ahead and check it out, and leave your comments and share it with your friends on Facebook, Twitter, Pinterest or Google+. If you do get this geeky gadget for yourself or as a present for someone else, tell us how you liked it, that would be awesome! :)
Categories: $200 to $500, All, All Prices, For The Home/Family, Other