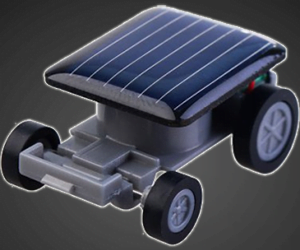 This little car is the world's smallest solar powered car! It's equipped with a solar panel on the top so you can charge it up eco-friendly with the clean power source the Sun.
You can easily charge up this eco-friendly little toy car with the Sun. Much better option than charging it with the power outlet at home, isn't it? The energy is in addition also free! But if you don't have access to sunlight, you can also use a flashlight.
Just place it in the sunlight and watch the world's smalles solar powered car taking off!
This car is great to demonstrate both the technology and the abilities of solar power. Put it on your desk when you're bored or if you just want to play with it. It's really fun to watch it drive away. Your kids will also love this funny little car. It's the perfect toy for the eco-friendly geek!
The car's size is about the size of a quarter (3.3 cm x 2.2 cm x 1.4cm).
We go around the web looking for new cool geeky items to surprise you. Today we've found World's Smallest Solar Powered Car and we think it's awesome. So go ahead and check it out, and leave your comments and share it with your friends on Facebook, Twitter, Pinterest or Google+. If you do get this geeky gadget for yourself or as a present for someone else, tell us how you liked it, that would be awesome! :)
Categories: $1 to $25, All, All Prices, Tech, Toys & Fun