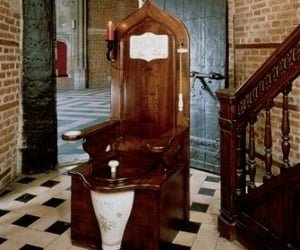 Taking a dump is a sacred activity that deserve honorable surroundings. Because the bathroom is the geeks temple and the toilet is his most sacred artifact. So why not honor the dump with a medieval wooden toilet throne?
Honor your most sacret activity with this awesome wooden toilet throne and take a dump like a King! This wooden throne gives your bathroom a real medieval luxury feeling and the throne is featuring a ash tray in one of its armrests, a candle holder and it even plays a musical chime when the toilet seat rises!
This masterpiece of a throne lets you show your dinner guests that you ARE the king or the queen of your own home. Take them with you to the bathroom after you've eaten dinner at your private castle, pull down your pants, sit down on the toilet throne and you'll feel like a real royality as you sit on your awesome throne that's made of solid ash and ring the bell which informs the dinner guests that you're finish when your operation has ended.
We go around the web looking for new cool geeky items to surprise you. Today we've found Wooden Toilet Throne and we think it's awesome. So go ahead and check it out, and leave your comments and share it with your friends on Facebook, Twitter, Pinterest or Google+. If you do get this geeky gadget for yourself or as a present for someone else, tell us how you liked it, that would be awesome! :)
Categories: $500 & Above, All, All Prices, Home & Kitchen