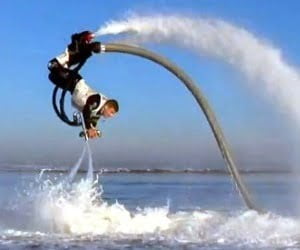 Wouldn't it be awesome to take a day off to just play with the dolphins and explore the rest of the ocean? That's exactly what the Water Jetpack allows you to do – In a completely new way!
For only $99,500 you can own your very own water powered jetpack made of carbon fiber that allows you to fly at a speed of 30 miles per hour and 30 feet up in the air. Now that's an awesome toy for the water sport-loving geek!
The Water Jet Pack is powered by a 260hp power unit (which is included). The system does also include a electrical control, two waterproof helmet radios, two instructor radios, a jet pack stand, a remote throttle control transmitter for the instructor and a 4 day pilot's course - Oh yeah! You need certification to ride this sweet baby!
You can read more about this awesome jetpack here: http://www.jetlev.com
We go around the web looking for new cool geeky items to surprise you. Today we've found Water Jetpack and we think it's awesome. So go ahead and check it out, and leave your comments and share it with your friends on Facebook, Twitter, Pinterest or Google+. If you do get this geeky gadget for yourself or as a present for someone else, tell us how you liked it, that would be awesome! :)
Categories: $500 & Above, All, All Prices, For Him, Popular Product, Toys & Fun