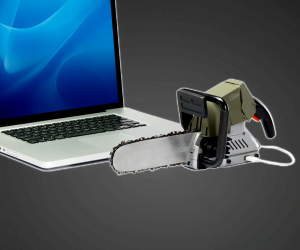 With this keyboard-sized plug and play USB chainsaw, you can finally merge your former life as a logger and your current life as an IT geek into one.  Perfect if you need to cut some branches at your office!
Are you bothered by annoying branches at your office? With this little USB-powered chainsaw on your desk, you'll be the office's own lumberjack. And because this baby is USB-powered, you don't have to worry about choking exhaust gases.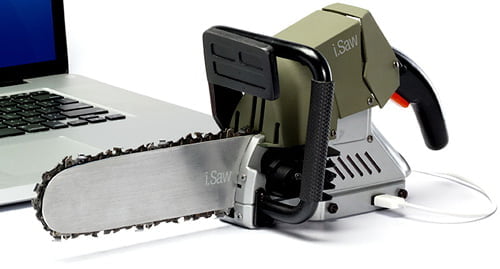 The iSaw is a fully functional chainsaw with the same safety and protective features as on the full-sized cahinsaws. And with the iSaw's following precision saw chain, you can cut through literally any types of wood. Perfect for removing the branches that have always bothered you!
We go around the web looking for new cool geeky items to surprise you. Today we've found USB-Powered Chainsaw and we think it's awesome. So go ahead and check it out, and leave your comments and share it with your friends on Facebook, Twitter, Pinterest or Google+. If you do get this geeky gadget for yourself or as a present for someone else, tell us how you liked it, that would be awesome! :)
Categories: $50 to $100, All, All Prices, Tech