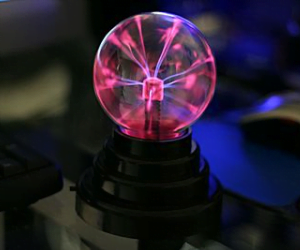 The good old plasma ball is back and is now USB-powered! Just connect it to a free USB port on your computer and you will have a fascinating sphere with lightning plasma to watch and play with.
If you've ever seen a mad scientist's laboratory, you know exactly what we're talking about - the glass ball with a beautiful lightning show. And when you put your hand against the glass, the lightning seeks towards your skin and follow the movement of your hand, without giving you any electric shocks.
The plasma ball is very hypnotic and calming both to look at and to touch. And that's probably exactly why mad scientists always have one at their lab. They have to rest their brain sometimes without thinking of bomb-equipped dolphins, world domination, unorthodox scientific experiments as waking monsters to life with electricity and making gold out of wool and yarn. And even if you're not a mad scientist and don't suffer from these problems, it's always fascinating and fun to watch and play with some electricity straight from your computer's USB port.
We go around the web looking for new cool geeky items to surprise you. Today we've found USB Plasma Ball and we think it's awesome. So go ahead and check it out, and leave your comments and share it with your friends on Facebook, Twitter, Pinterest or Google+. If you do get this geeky gadget for yourself or as a present for someone else, tell us how you liked it, that would be awesome! :)
Categories: $1 to $25, All, All Prices, Popular Product, Tech