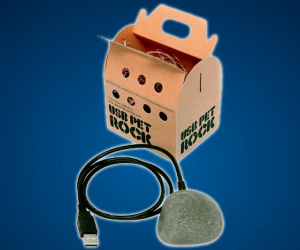 The USB pet rock is the pet-loving geek's best friend. Just plug it into a free USB port on your computer and it will instantly begin to work its magic as a pet rock should do.
People around will start to wonder when you plug this thing to your computer. If they ask you what the rock do, you can simply tell them something wired because the USB pet rock don't do a thing! So tell them something crazy because its better than the truth.
If you know someone who had a pet rock back in the 1980's or something, this new version of it will give them a big smile around their face!
We go around the web looking for new cool geeky items to surprise you. Today we've found USB Pet Rock and we think it's awesome. So go ahead and check it out, and leave your comments and share it with your friends on Facebook, Twitter, Pinterest or Google+. If you do get this geeky gadget for yourself or as a present for someone else, tell us how you liked it, that would be awesome! :)
Categories: $1 to $25, All, All Prices, Other, Tech, Toys & Fun