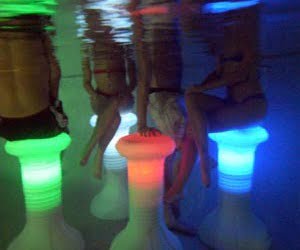 Why swim in the swimming pool when you can sit? These awesome pool stools are the perfect furnitures for your pool if you want to "pimp" it up!
Imagine taking a lovely & refreshing swim in the pool after a hard day at work on a hot summer day. You swim back and forth and enjoy the cool water that surrounds your exhausted body. But the problem is that if you get tired of swimming and want to sit, you have to get up from the pool and then you'll not have the cool feeling of water that surrounds your body. Not if the swimming pool is very shallow of course.
But now there is a solution for this problem! Introducing the fully submersible and adjustable Underwater Pool Stool that let you sit anywhere you want in the pool without any problems!
They do also have remote controlled LED lights powered by rechargeable batteries to create cool underwater lighting effects! Great for pool parties.
We go around the web looking for new cool geeky items to surprise you. Today we've found Underwater Pool Stool and we think it's awesome. So go ahead and check it out, and leave your comments and share it with your friends on Facebook, Twitter, Pinterest or Google+. If you do get this geeky gadget for yourself or as a present for someone else, tell us how you liked it, that would be awesome! :)
Categories: $100 to $200, All, All Prices, Home & Kitchen, Popular Product