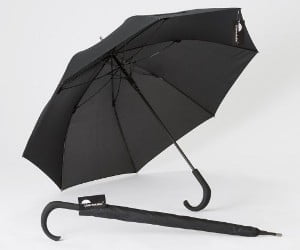 Make no mistake, this umbrella is not a regular umbrella that saves you from the rain. This umbrella is an actual weapon that can be used to protect yourself from unexpected attacks.
While looking unassuming this umbrella is made to be sturdy as a steel pipe. It works as any regular umbrella, it opens up and protects you from the rain, but it can also be used as a walking stick or as a weapon. All the while it's legal to carry with you everywhere and doesn't raise any suspicion.
If you practice martial arts, need a secret weapon to protect yourself should harm get in your way, or perhaps you just need a walking stick but you're embarrassed to carry one, either way this umbrella is a great choice.
We go around the web looking for new cool geeky items to surprise you. Today we've found Unbreakable Stick Umbrella and we think it's awesome. So go ahead and check it out, and leave your comments and share it with your friends on Facebook, Twitter, Pinterest or Google+. If you do get this geeky gadget for yourself or as a present for someone else, tell us how you liked it, that would be awesome! :)
Categories: $100 to $200, All, All Prices, For Him, Knives, Tools & Survival