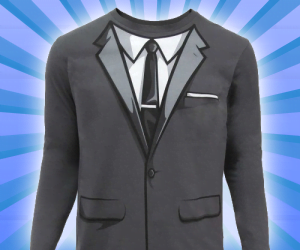 Casual shirts that everyone wears are boring. And if you use to dress yourself with these plain white t-shirts or plaid shirts, your awesomeness level are near zero because you won't stand out from the boring crowd!
It's much cooler to wear a shirt with some fun and creative print than a plain white and boring shirt, right? We want you to have a certain level of awesomeness when you're walking on the street, so therefore, we've collected the top 10 funniest shirts we could find to help you out! Are you ready? Well, here is the list: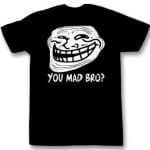 If you're a part of the new Internet meme pop-culture and like to troll people, you'll love this shirt just like everyone else who's a part of this popular culture.
This awesome T-shirt has the annoying troll face printed on the front with the classic sentence "YOU MAD BRO?" below.
It's the perfect T-shirt for the guy or gal that enjoy trolling on forums, Internet communities or in games!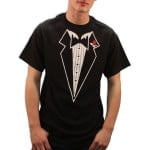 This is the perfect T-shirt for the guy who don't have time to change from his regular clothes to his formal wear if he suddenly has to go to a party. This black Tee has a smooth print of a tuxedo with a red flower on the front, which makes it suitable for any occasion. You will without a doubt look awesome and impress the world with this funny t-shirt!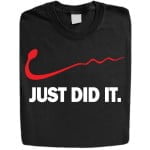 Did you just do her? Why not brag about it to the rest of the world and show how proud you are with this awesome 'Just Did It' t-shirt?!
This shirt is inspired by the Nike logo and the nike slogan 'Just Do It' and you'll get a lot of attention from hot babes when you're wearing this one!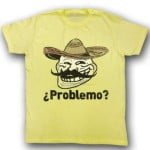 This is the Spanish version of the popular 'U Mad Bro' shirt. It's a great Tee to wear if you use to troll in Spanish or if your troll-victims don't understand English. This awesome troll shirt features the iconic troll face with a sombrero hat and a classic latino mustache asking "Problemo?" below. Troll you Latino friends while you're wearing this cool T-shirt and they will be pissed!
6. The Hangover Baby Carrier T-Shirt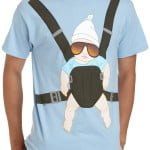 Dress up like a caring father with this hilarious hangover baby carrier T-Shirt. It features a print on the front of little baby Carlos strapped to a baby carrier.
When you wear this T-shirt at the mall, on the street or at the party, the estrogen level in the women that sees you will boil! Because we all know that women like men who care about children. It's a must-have for fans of The Hangover and for the ones that wants to get laid because of his shirt!
5. Periodic Table of Beer T-shirt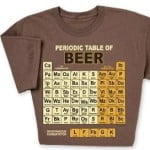 If you're a beer-loving man, then this Tee is the right upper body garment whether you're heading to the pub or the football/soccer stadium.
You'll definitely create a buzz among your friends and all the other beer-loving men when you're wearing this awesome and funny periodic table of beer T-shirt because on the front there's a printing of a periodic table that features some of the world's most famous beers. From the lightest ale to the strongest schwarzbier!
4. National Sarcasm Society T-Shirt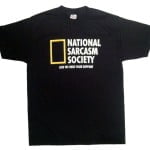 This shirt is number 4 on our list and it's a funny shirt for all of us geeks who love to spend our spare time on watching National Geographic on the TV or reading the National Geographic Magazine. This sarcastic Tee have the characteristic NatGeo logo printed on the front followed by the funny parody slogan that's saying: 'National Sarcasm Society, Like We Need Your Support'. It's a great gift for your friend or for the family member who spend maybe a little bit to much time in front of the NatGeo channels on the TV.
3. Ask Me About My T-Rex Shirt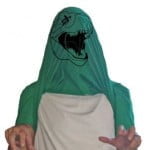 Number 3 on the list is this prehistoric and funny Tee. When your friends see you wearing the awesome 'Ask Me About My T-Rex' Shirt, they will probably (about 90% of the time) ask about your T-Rex. And when they do, you just flip the shirt over your head and instantly become a T-Rex! It has never before been funnier to answer questions.
2. Tony Stark Light up LED T-Shirt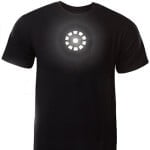 This may look like a regular standard T-shirt with some print on the front, but it's not. It's actually Tony Strak's Iron Man MK IX Armor T-shirt with a chest-mounted arc reactor that light up thanks to the power of LEDs. The chest-mounted arc reactor's "uni-beam" is powered by photons (actually it's powered by 3 AAA batteries. But you don't need to tell anyone.)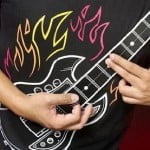 This is the most awesome, practical and funniest shirt we could find. This is basically a black T-shirt with a built-in electric guitar that's fully playable! And no, it's not a hoax. It's for real!
It's not a toy that plays pre-installed music riffs when you press a button, it's a real fully working electric guitar that allows you to play your favorite riffs wherever you are. It doesn't matter if you're sitting on the bus, in the classroom or in your own living room because you can play your favorite songs wherever you are wearing the Electric Guitar Shirt! How awesome isn't that? An mini amplifier that you just clip to your belt is included.
We go around the web looking for new cool geeky items to surprise you. Today we've found Top 10 Funniest Shirts and we think it's awesome. So go ahead and check it out, and leave your comments and share it with your friends on Facebook, Twitter, Pinterest or Google+. If you do get this geeky gadget for yourself or as a present for someone else, tell us how you liked it, that would be awesome! :)
Categories: $1 to $25, All, All Prices, Wearables