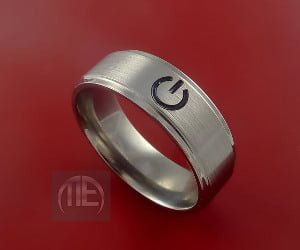 If you want to show your commitment as a computer geek this power symbol ring is just the thing. A beautiful titanium ring with a milled power symbol embodies the true geekiness in you.
The 8mm wide titanium ring with a satin/brush finish is very light and strong. Being made of titanium not only makes it a cool stronger than steel ring but also doesn't irritate or discolor your skin, feels light and comfortable.
Get it as a gift to a geek in your life or better yet, get matching rings and be forever united in the power of geekiness.
We go around the web looking for new cool geeky items to surprise you. Today we've found Titanium Power Symbol Ring and we think it's awesome. So go ahead and check it out, and leave your comments and share it with your friends on Facebook, Twitter, Pinterest or Google+. If you do get this geeky gadget for yourself or as a present for someone else, tell us how you liked it, that would be awesome! :)
Categories: $50 to $100, All, All Prices, For Her, For Him, Wearables