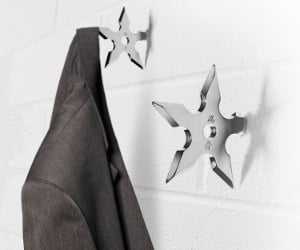 OMG your house is under ninja attack, the throwing stars are flying all over the place – the walls are sprinkled with them. Oh well, might as well use some of them as coat hooks.
Do you want that ninja touch in your home decor? Use this ninja coat hook that looks like a real throwing star launched into your wall. Forget the old boring coat hooks and make them look cool.
The hook is made of strong nickel-plated zinc alloy and is set up on your wall as if one corner is stuck into it (attached with a screw) and it's 4 inches in diameter. It will hold any clothes you hang on it well.
It's a great little thing if you're looking for something cool yet practical for your home decor.
We go around the web looking for new cool geeky items to surprise you. Today we've found Throwing Star Coat Hook and we think it's awesome. So go ahead and check it out, and leave your comments and share it with your friends on Facebook, Twitter, Pinterest or Google+. If you do get this geeky gadget for yourself or as a present for someone else, tell us how you liked it, that would be awesome! :)
Categories: $1 to $25, All, All Prices, For The Home/Family, Home & Kitchen