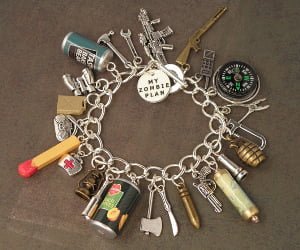 When the zombie apocalypse comes only weapons will not be enough. You need charms to survive. That's what this bracelet is all about – maximizing your chances of survival when the worst comes to worst.
This bracelet is called "My Zombie Plan" for a reason - it has miniature versions of every item necessary to survive the apocalypse. Granted the items are just charms and mostly non functional, they are designed as jewelry that brings luck and maybe give you an idea of what items you need to stock up with.
The bracelet includes multiple weapons and ammo, food cans and a bottle of water, tools and other essentials like first aid kit, mobile phone, knife, a fully functional compass, etc. The items are made of various materials including silver.
Everyone needs a good luck charm and let's face it, luck is never enough during a zombie apocalypse. Good luck out there!
We go around the web looking for new cool geeky items to surprise you. Today we've found The Zombie Apocalypse Charm Bracelet and we think it's awesome. So go ahead and check it out, and leave your comments and share it with your friends on Facebook, Twitter, Pinterest or Google+. If you do get this geeky gadget for yourself or as a present for someone else, tell us how you liked it, that would be awesome! :)
Categories: $25 to $50, All, All Prices, Knives, Tools & Survival