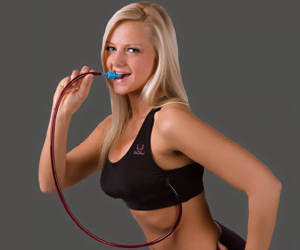 Now you can easily drink your favorite alcoholic beverage without anyone noticing and smuggle your wine with you wherever you go thanks to this brilliant and comfortable sports bra with a built-in bladder.
If you are a sporty lady who likes to take a sip of wine now and then without wanting someone to know about it, then this sports bra will satisfy your needs.
It has a built-in and removeable bladder that can hold up to 25 ounces of wine or another beverage of your choice that you can smuggle with you wherever you go without anyone noticing. And when you feel for a sip and no one is watching, just open the valve and take a sip through the following drinking tube.
Besides holding on your favorite beverage, it will also make your breasts look bigger!
We go around the web looking for new cool geeky items to surprise you. Today we've found The Wine Bra and we think it's awesome. So go ahead and check it out, and leave your comments and share it with your friends on Facebook, Twitter, Pinterest or Google+. If you do get this geeky gadget for yourself or as a present for someone else, tell us how you liked it, that would be awesome! :)
Categories: $25 to $50, All, All Prices, For Her, Wearables