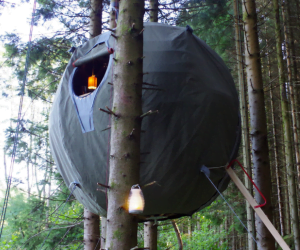 Have you always wanted to camp up in a tall tree but haven't dared to set up a regular tent of fear that you will fall down in the middle of the night while you're in your deep sleep?
The functional $12,500 Tree Tent solves this problem as the company who produce it will come and install this solid structure for you up in your favorite tree for around $450 a day. A job that doesn't take more than 1-2 days depending on the complexity of the tree of course.
The Tree Tent is a fully functional home for the wildlife loving geek and much cheaper than a regular home too! For only $12,500 you'll get a sphere-like home with a bed, a bed roll, a table, a underfloor storage hatch, a mess unit and even a woodstove! There are also a whole lot of other accessories that you can choose from when you order your Tree Tent to customize it to your needs.
We go around the web looking for new cool geeky items to surprise you. Today we've found The Tree Tent and we think it's awesome. So go ahead and check it out, and leave your comments and share it with your friends on Facebook, Twitter, Pinterest or Google+. If you do get this geeky gadget for yourself or as a present for someone else, tell us how you liked it, that would be awesome! :)
Categories: $500 & Above, All, All Prices, Other