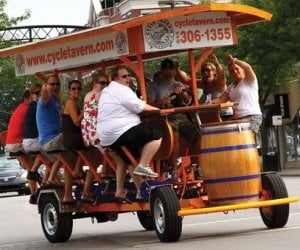 For a small annual salary you can now buy your very own pub on wheels. The Pedal Pub can have up to 17  passengers at once while your beer thirsty pub customers are pedaling your pub towards new destinations!
To own his own pub where he can serve his best Ale to like-minded and beer thirsty men is the man's biggest dream. And if you are a middle aged man, you've probably thought about the idea of ​​opening your own pub one time or another in your life. But unfortunately you have had to give up the dream because you wouldn't have been able to afford it because it would have cost too much in the startup phase when it comes to rental of pub facilities, marketing, etc. But now you can finally fulfill your dream of owning your own pub thanks to this ingenious invention from the Netherlands.
The Pedal Pub is basically a pub on wheels where the customers pedal the pub towards new destinations while they're consuming their no. 1 favorite beverage. It costs a small annual salary, but it's quite cheap compared to what an ordinary pub would have cost you. And you don't need to worry about expensive ads to market your new pub because this baby will market itself to new potential customers as your customers are pedaling it through new areas.
We go around the web looking for new cool geeky items to surprise you. Today we've found The Pedal Pub and we think it's awesome. So go ahead and check it out, and leave your comments and share it with your friends on Facebook, Twitter, Pinterest or Google+. If you do get this geeky gadget for yourself or as a present for someone else, tell us how you liked it, that would be awesome! :)
Categories: $500 & Above, All, All Prices, Other, Popular Product