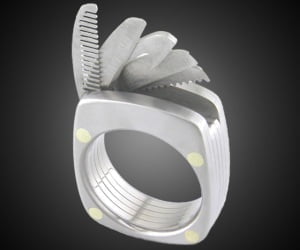 Finally a real ring for us men! This ring, which is crafted from high-quality aerospace grade titanium is equipped with a bottle opener, a straight blade, a serrated blade, a saw and a comb!
Do you want a real man ring that you can open your beer bottles with, cut your fishing line with and comb your hair or mustache with? This handy ring have all the necessary tools a man need in order to survive in short periods on his own. Although the tools are tiny, they actually do a great job!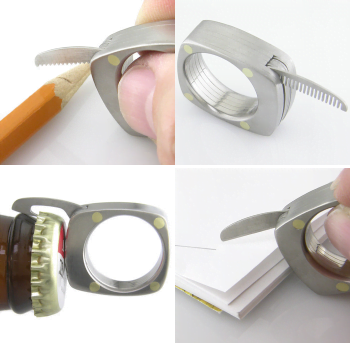 Imagine that you are on a stag party and when you have become quite drunk, you are being stripped naked by your friends and abandoned in the woods all alone with a crate of beer. But one thing they have forgot to take away from you is your Man Ring! You unfold the bottle opener to open some beer bottles so you don't thirst to death while you're waiting for someone to find you and you use the comb to comb your hair and your mustache to keep your good look in the woods. This ring can actually save your life!
We go around the web looking for new cool geeky items to surprise you. Today we've found The Man Ring and we think it's awesome. So go ahead and check it out, and leave your comments and share it with your friends on Facebook, Twitter, Pinterest or Google+. If you do get this geeky gadget for yourself or as a present for someone else, tell us how you liked it, that would be awesome! :)
Categories: $200 to $500, All, All Prices, For Him, Knives, Tools & Survival