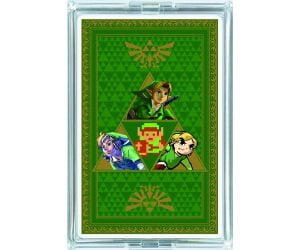 If you like playing cards – poker or other games – then you need a deck of geeky cards too. Presenting you the Legend of Zelda playing cards – a full deck of Zelda themed playing cards.
The cards depict your favorite characters and artifacts from the classic video game of the Legend of Zelda. They are nicely made and feature cool and familiar artwork that any Zelda geek will find endearing.
All Zelda fans will love these cards even if they're not much into playing cards. It's a great thoughtful gift to anyone who is a fan.
We go around the web looking for new cool geeky items to surprise you. Today we've found The Legend of Zelda Playing Cards and we think it's awesome. So go ahead and check it out, and leave your comments and share it with your friends on Facebook, Twitter, Pinterest or Google+. If you do get this geeky gadget for yourself or as a present for someone else, tell us how you liked it, that would be awesome! :)
Categories: $1 to $25, All, All Prices, For Her, For Him, Toys & Fun