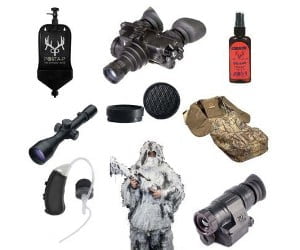 There has never been a better time to get your hands on the Invisible Man Kit. Our enemies are everywhere today; we don't know who these freaks are or what they are trying to do to us.
Not only do we need to stay hidden, we need to stay one step ahead, to get them before they get us. This means not only being invisible, but blessed with extra, super senses and the ability to fool freaks everywhere.
The Invisible Man Kit includes a range of low-visibility jackets and vests, including the OPMOD Woodland Camo Ghillie Suit. The OPMOD Snow Camo Ghillie Suit is a paler version of the same thing, since freaks like cold climates also. Disguise your head and face with the Black Hawk balaclava, available in a range of muted colors. Remember, freaks can hear as well as see, which means you need to watch your camouflaged back. To hear the freaks before they hear you, make use of the Pro-Ears Pro Hear IV, a hearing filter that amplifies sounds like whispering and footfalls on forest floors. The Odin thermal imager by ATN is compact, portable and capable of detecting any freak hiding in a clump of bush.
Above all, you want to fool the freaks and cause havoc among them, something that the Cass Creek Waggler Predator Decoy, a helmet with an animal tail attached, can do. Cause even more confusion with the Cass Creek Urine Scent, available in Cougar/Mountain Lion and Hog Boar - well, no-one was ever going to make a date with a freak. Of course, it is the extra accessories that make the Invisible Man Kit really worth its price; the Gerber Gorge Folding Shovel, the knives and weapon accessories, binoculars and sunglasses, hydration packs, sleeping bags and much, much more. Really, it's all you need to survive the twenty-first century.
We go around the web looking for new cool geeky items to surprise you. Today we've found The Invisible Man Kit and we think it's awesome. So go ahead and check it out, and leave your comments and share it with your friends on Facebook, Twitter, Pinterest or Google+. If you do get this geeky gadget for yourself or as a present for someone else, tell us how you liked it, that would be awesome! :)
Categories: $500 & Above, All, All Prices, Knives, Tools & Survival