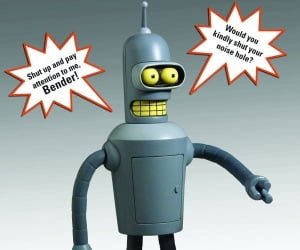 Now you can get your number 1 favorite alcohol consuming and heavy smoking cartoon character as a talking figure! This awesome and insulting Bender figure can say 12 different phrases from the popular TV show!
This fun and offensive figure is Bender, 'nuff said! He's highly recommended for all fans of the brilliant TV show 'Futurama', which takes place in the city New New York in the year 3000 where you'll meet characters as Fry, Leela, Dr. Zoidberg and of course Bender Rodriguez, who's a Unit 22 Bending Unit robot.
Bender was mainly programmed to bend beams for suicide booths, and later he was made ​​to a chef at the Planet Express ship. But now he's a Sales Director Assistant at Planet Express. He is Fry's best friend and they share the same apartment together, even though Bender hates humans. And his ultimate dream is to become a folk singer and professional chef.
He is not like the other robots. He is a heavy smoker and a heavy alcohol consumer for several mechanical reasons. He loves to steal, lie and insult humans. This is perhaps the reason why he is the favorite character among the Futurama fans. And if Bender Bending Rodriguez is your favorite character too, you can now get your very own talking Bender figure that can insult you when you want, where you want! In total, he can say 12 different phrases from the TV show like "Shut up and pay attention to me, Bender!" and "Would you kindly shut your noise hole?". It's a must-have among Bender fans!
We go around the web looking for new cool geeky items to surprise you. Today we've found Talking Bender Figure and we think it's awesome. So go ahead and check it out, and leave your comments and share it with your friends on Facebook, Twitter, Pinterest or Google+. If you do get this geeky gadget for yourself or as a present for someone else, tell us how you liked it, that would be awesome! :)
Categories: $1 to $25, All, All Prices, Popular Product, Toys & Fun