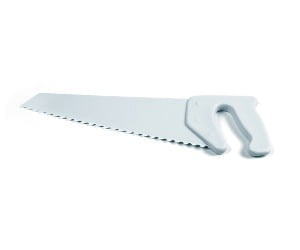 Do you still use a knife to cut a cake? Show to your guests you mean business by whipping out an actual saw to cut the cake. It's a real man's way of cutting cake.
And you can cut other thing in the kitchen too, like lettuce. Anything can be accomplished with a knife regularly but we geeks need more power in the kitchen. So we use a saw for the job.
The saw is made of durable plastic and it's designed to be more of a novelty item than a kitchen tool. It won't cut firm things but the whole point is to put on a show. Use it at a birthday party or a wedding to cut the cake for the extra fun element.
We go around the web looking for new cool geeky items to surprise you. Today we've found Table Saw and we think it's awesome. So go ahead and check it out, and leave your comments and share it with your friends on Facebook, Twitter, Pinterest or Google+. If you do get this geeky gadget for yourself or as a present for someone else, tell us how you liked it, that would be awesome! :)
Categories: $1 to $25, All, All Prices, For Him, Home & Kitchen