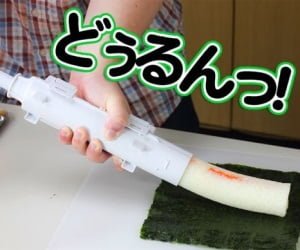 Add rice and sushi filling of your own choice in the tube, squeeze it together and press out a perfectly round maki roll. Then just wrap some seaweed around the roll and enjoy as a Japanese!
Rice and raw fish - there's nothing healthier. We eat all kinds of food. Burgers, pizza, lasagna, etc. But the Japanese have realized it the whole time. They become always at least 140 years old, and there are only about 200 overweight Japaneses. And all these overweight Japaneses are working as sumo wrestlers, while the rest are slim. All this thanks to the power of rice and raw fish!
You should eat it as often as possible, but it's exhausting for a geek to go to a sushi restaurant every day, and it gets pretty expensive in the long term. And if you want to make sushi at home, you have to use one of these sushi rolling mats that you only want to lie down on and rest on in the end. Who thought it would be so difficult to make their own sushi?
Everything would have been so much easier if you had a sushi bazooka that just could shot out a real solid maki roll on the dining table every evening. And yes, it's this one! Fill it with rice and whatever you want of good fish and vegetables, press it together and BAM! - Out comes a perfectly shaped roll! Then just wrap some seaweed around the maki roll and enjoy your fresh and healthy sushi. Douzo meshiagare, as a Japanese would have said.
We go around the web looking for new cool geeky items to surprise you. Today we've found Sushi Bazooka and we think it's awesome. So go ahead and check it out, and leave your comments and share it with your friends on Facebook, Twitter, Pinterest or Google+. If you do get this geeky gadget for yourself or as a present for someone else, tell us how you liked it, that would be awesome! :)
Categories: $1 to $25, All, All Prices, Food & Drinks, Popular Product