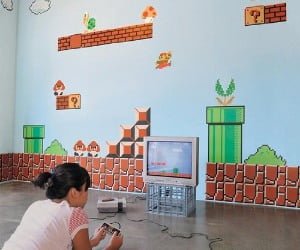 Have you ever dreamed of living in the Super Mario Bros world? Now you can at least make your home resemble one with these awesome wall decals that depict the world of your favorite video game.
You get 3 sheets of decals you can use to decorate your walls and design your own levels of Super Mario Bros on them. You have the bricks, the pipes, the clouds, the coins, the enemies and of course Mario. By using your imagination you can turn your room into a real Mario world (pun intended).
Use them to decorate your kids room or your gaming room, either way it will make your home so much geekier and fun.
We go around the web looking for new cool geeky items to surprise you. Today we've found Super Mario Bros Wall Decals and we think it's awesome. So go ahead and check it out, and leave your comments and share it with your friends on Facebook, Twitter, Pinterest or Google+. If you do get this geeky gadget for yourself or as a present for someone else, tell us how you liked it, that would be awesome! :)
Categories: $50 to $100, All, All Prices, For The Home/Family, Other