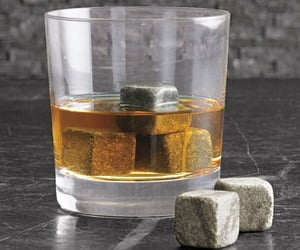 With these soapstones you don't need ice cubes! Just put the stones in your freezer, and they are ready for use in matter of hours. They'll provide you with colder and undiluted drinks.
Imagine this scenario: You come home after a hard day at work to enjoy a good old glass of whiskey like a Sir. You fill your glass with your favorite whiskey, add a few ice cubes, close your eyes and lean back in the leather armchair with the glass in your hand. After a while you straighten yourself up to take the first sip, but what happens? Oh yes, you are getting a odd water mixture that tastes more like cat pee than whiskey!
The scenario above and all other cases of alcohol poisoning can now, once and for all, be stopped! These Nordic ice cubes cools off your drink without diluting it! The cubes are made ​​of soapstone, which is a rock that keeps very well on the coldness. This means colder and undiluted drinks! The cubes can be used over and over again and they don't scratch glass. Just store them in your freezer, and they're ready to be used in matter of hours.
We go around the web looking for new cool geeky items to surprise you. Today we've found Stone Ice Cubes and we think it's awesome. So go ahead and check it out, and leave your comments and share it with your friends on Facebook, Twitter, Pinterest or Google+. If you do get this geeky gadget for yourself or as a present for someone else, tell us how you liked it, that would be awesome! :)
Categories: $1 to $25, All, All Prices, Food & Drinks, Other, Popular Product