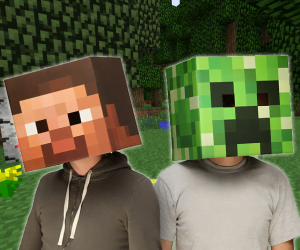 Put on the Creeper mask and let your friend use the Steve mask and you can play real life Minecraft whole day long in your own backyard! It's a must-have for any Minecraft fan who can't get enough of it!
These awesome official Minecraft masks let you play Minecraft Steve or as a Creeper the few times you enjoy the real life. They are made of solid cardboard and you can easily see the surroundings (even though they aren't as exciting as the pixelated Minecraft world) through the "easy to see" eye holes.
These masks are perfect for game conventions, Halloween or as a gift to the Minecraft fanboy in the family!
We go around the web looking for new cool geeky items to surprise you. Today we've found Steve & Creeper Masks and we think it's awesome. So go ahead and check it out, and leave your comments and share it with your friends on Facebook, Twitter, Pinterest or Google+. If you do get this geeky gadget for yourself or as a present for someone else, tell us how you liked it, that would be awesome! :)
Categories: $25 to $50, All, All Prices, Popular Product, Wearables