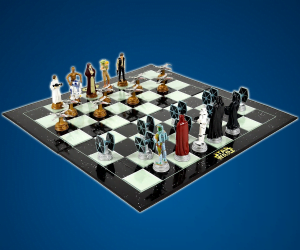 The 2000 year old board game has finally been modernized! With the Star Wars Chess Set you can enjoy intergalactic battles between the good Rebels and the evil Empire.
All the favorites are included in this awesome chess set, which should satisfy the most discerning Star Wars fanatic.
The Pawns are X-Wing and Tie-fighters and otherwise you will obviously find Luke, Leia, Han Solo, Boba Fett and our dear Darth Vader among the set. And all the chess pieces are 3D modeled after the original star wars characters and ships.
The board measures 17" x 17" and the figures are between 2" to 4" tall.
This is an absolute must-have if you are both a chess and a Star Wars lover!
We go around the web looking for new cool geeky items to surprise you. Today we've found Star Wars Chess and we think it's awesome. So go ahead and check it out, and leave your comments and share it with your friends on Facebook, Twitter, Pinterest or Google+. If you do get this geeky gadget for yourself or as a present for someone else, tell us how you liked it, that would be awesome! :)
Categories: $50 to $100, All, All Prices, Toys & Fun