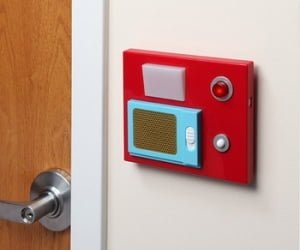 This awesome motion-sensitive door chime is an exact replica of those onboard USS Enterprise! It will without a doubt give you the feeling that you're onboard USS Enterprise when someone passes through!
Mount it next to your door and when someone crossess it, the chime will sound! Maybe it's a Klingon that passes through it? Who knows!
The device can sense motion on the both sides and has two different sound levels. It fits perfectly when you're watching your favorite episodes of Star Trek! And if you want to watch something "not-that-geeky" on TV (If you for example invite your girlfriend on a movie evening), you can silence it.
The divice requires 3 AA batteries which isn't incuded.
We go around the web looking for new cool geeky items to surprise you. Today we've found Star Trek Electronic Door Chime and we think it's awesome. So go ahead and check it out, and leave your comments and share it with your friends on Facebook, Twitter, Pinterest or Google+. If you do get this geeky gadget for yourself or as a present for someone else, tell us how you liked it, that would be awesome! :)
Categories: $25 to $50, All, All Prices, Popular Product, Tech, Toys & Fun