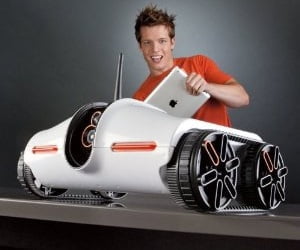 This awesome spy tank really brings out the little spy in you! With this awesome app-controlled spy tank you can drive around and spy via your iPad, iPhone or iPod. It has night vision too!
Just connect it wireless with your iPhone, iPad or iPod touch with the free control app and start spying with its microfone and manually adjustable camera that streams live video back to your device. And something else that's really cool is the camera's undetectable infrared night vision which allows you to see in the dark! The camera can also take pictures.
You can use this awesome spy tank to spy on your family members, inspect dangerous areas, play with your pet or you can just have fun with it. Even when it's dark!
The wireless range is on 200 feet and the spy tank is powered by 6 AA batteries which is included.
We go around the web looking for new cool geeky items to surprise you. Today we've found Spy Tank with Night Vision and we think it's awesome. So go ahead and check it out, and leave your comments and share it with your friends on Facebook, Twitter, Pinterest or Google+. If you do get this geeky gadget for yourself or as a present for someone else, tell us how you liked it, that would be awesome! :)
Categories: $50 to $100, All, All Prices, Tech, Toys & Fun