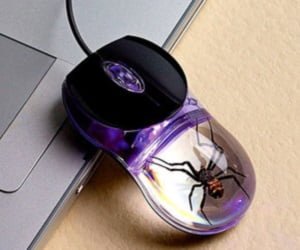 This computer mouse is not for those who are afraid of spiders. But you could try to give it to a friend who has serious arachnophobia and see his reaction when he opens his gift.
Your arachnophobia friend will most likely freak out when he opens his gift and sees what's inside the computer mouse. Did we mentioned that it's a REAL spider inside?
It's a creepy computer mouse indeed and it's not for those who are afraid of creepy bugs. It looks like something out of a horror movie, but relax, the spider is encased in acrylic so you won't come in direct contact with it.
You can easily connect the mouse to your computer via the USB port and it has built-in lights so it will light up in the dark so you can study the creepy bug inside even if it's completely dark.
We go around the web looking for new cool geeky items to surprise you. Today we've found Spider Computer Mouse and we think it's awesome. So go ahead and check it out, and leave your comments and share it with your friends on Facebook, Twitter, Pinterest or Google+. If you do get this geeky gadget for yourself or as a present for someone else, tell us how you liked it, that would be awesome! :)
Categories: $1 to $25, All, All Prices, Popular Product, Tech